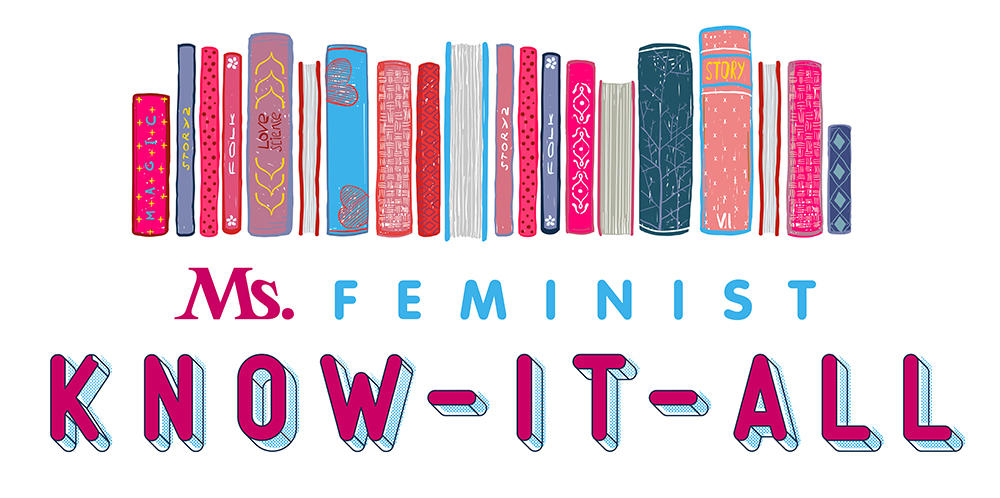 The Feminist Know-It-All: You know her. You can't stand her. Good thing she's not here! Instead, this column by gender and women's studies librarian Karla Strand will amplify stories of the creation, access, use and preservation of knowledge by women and girls around the world; share innovative projects and initiatives that focus on information, literacies, libraries and more; and, of course, talk about all of the books.
---
Each month, I provide Ms. readers with a list of new books being published by writers from historically excluded groups.
The aims of these lists are threefold:
I want to do my part in the disruption of what has been the acceptable "norm" in the book world for far too long—white, cis, heterosexual, male;
I want to amplify indie publishers and amazing works by writers who are women, Black, Indigenous, Latinx, APIA/AAPI, international, queer, trans, nonbinary, disabled, fat, immigrant, Muslim, neurodivergent, sex-positive or of other historically marginalized identities—you know, the rest of us; and
I want to challenge and encourage you all to buy, borrow and read them!
It is my favorite time of year! It's autumn in the Northern Hemisphere, where I can more comfortably enjoy the rest, rejuvenation and realignment of being outside. Whether that is in the city or the country, a farmer's market or a forest, I love the feeling of freedom that comes from being outdoors or in nature.
I've been reflecting on freedom a lot of late, as I'm sure many of us have. What does freedom mean? What does it look and feel like for you? Why is it kept from some and bountiful to others?
When does freedom end and liberation begin?
I honestly don't know the answers to these questions—but I believe in the power of reflection, learning, listening and discussing in attempting to figure it out. Of course, this leads me to this month's list of recommended new books, many of which seem to align with this theme of liberation. I hope you'll find something here that gets you thinking about liberation and, more importantly, inspires you to work towards liberation for all.  
---
Edited by Amber Wendler (@amberwendler) and Shaz Zamore (@thedoctaz). Mountaineers Books. 208 pages. Out Oct. 1.
I love this first book, especially for this time of year. It's a beautiful time to get outside, and this (re)defining collection highlights the adventures, challenges, joys and lessons of 22 Black women, nonbinary and gender noncomforming individuals from a variety of backgrounds, identities, fields and experience levels.
*
By Ijeoma C Nwaogu, Ph.D. (@ijeomaleads). New Harbinger Publications. 200 pages. Out Oct. 1.
The first thing I noticed about this essential guide is how Dr. Nwaogu refers to what is more commonly known as "imposter syndrome" as "imposter anxiety." And this is just the first piece of valuable (re)framing that she presents. Throughout, Nwaogu helps us to shift our mindsets into authenticity, bravery and liberation.
*
By Juliet Hooker (@creoleprof). Princeton University Press. 360 pages. Out Oct. 3.
By examining the structures of Black grief and white grievance, professor of political science Juliet Hooker illustrates how race influences how loss is treated, viewed and talked about in the U.S. This fascinating and critical research sheds light on the personal and political ramifications of loss and the racial inequities they continue to perpetuate.      
*
By Sara Ahmed (@SaraNAhmed). Seal Press. 304 pages. Out Oct. 3.
While we all need more joy in our lives, Sara Ahmed is back to explore those moments when being the Feminist Killjoy is the most critical and revolutionary thing we can be. Being the killjoy is often a joy unto itself, and Ahmed shows us how to embrace it in all its liberatory glory.
*
By micha cárdenas. AK Press. 152 pages. Out Oct. 10.
The first novel by micha cárdenas is part of AK Press's Emergent Strategy series and I adored it. A story of a trans Latina woman's experiences in time, space and alternate realities, this glorious sci-fi debut is for anyone who's searching for home and hope.
*
By Jessica Norwood (@jessicanorwood). Berrett-Koehler Publishers. 168 pages. Out Oct. 10.
If you are observing Financial Planning Month, I highly recommend reading (and living) Believe-In-You Money by entrepreneur, financial activist and all-around powerhouse Jessica Norwood. In plain and empowering prose, Norwood gives practical advice for how to use capital as a tool for liberation.
*
By Premilla Nadasen (@premillanadasen). Haymarket Books. 288 pages. Out Oct. 10.
In her latest crucial book, historian and activist Premilla Nadasen explores how caring for others – work long-relegated to women, and largely women of color—became part of the inequity, indignity and extraction of capitalism. But as Nadasen illustrates, when care workers connect with those of other justice-based movements, a collective of solidarity, resistance and hope can form an indelible force for change.   
*
By Rosa Lowinger. Row House Publishing. 360 pages. Out Oct. 10.
From a Cuban Jewish family, Rosa Lowinger she writes candidly in this singular memoir about the pain and intergenerational trauma her family has experienced. A successful art conservator, Lowinger masterfully equates the healing of her family's pain with the repair of materials she works with in her thriving private practice.
*
By Huda Fahmy (@yesimhotinthis). Dial Books. 208 pages. Out Oct. 10.
Huda Fahmy is back with this hilarious sequel to her 2021 debut semi-autobiographical graphic novel, Huda F Are You? This time, Huda and her family are headed to Disney World, but it's not all one fab vacay. Will Huda survive the road trip with her family? Will everyone stare at them as they pray? The answers will delight and surprise you. 
*
By Fancy Feast (@fancyfeastburlesque). Algonquin Books. 256 pages. Out Oct. 10.
This cheeky collection of essays by burlesque performer, social worker and sex educator Fancy Feast is a delight. Whether she's sharing her experiences with polyamory, with fatphobia or with sex toys, Feast is candid, gracious and vulnerable.
*
Written by Banana Yoshimoto (@y_banana). Translated by Asa Yoneda. Counterpoint. 144 pages. Out Oct. 10.
Translated for the first time into English, this slim coming-of-age story was an instant bestseller in Japan when first published in 1988. It centers on a young woman who moves in with her unusual aunt to explore longstanding and unsettling feelings that she's forgotten something important from her childhood.
*
Written by Maria Judite de Carvalho. Translated by Margaret Jull Costa. Two Lines Press. 450 pages. Out Oct. 10.
I'm thankful to Two Lines Press for bringing the work of Maria Judite de Carvalho (1921-1998) to my attention with this unflinching collection of her short works written between 1959 and 1967. These stories remain relevant and bold as they speak to the loneliness and oppression of patriarchal society.
*
Edited by Beldan Sezen (@beldan_sezen) and Adam Shapiro. Radix Media. 152 pages. Out Oct. 10.
Using the evocative and democratizing power of comics, this remarkable collection of stories from women human rights defenders covers topics from violence, autocracy and misogyny to resistance, community building and courage. Including contributors from Brazil, Lebanon, Sudan, Armenia, Puerto Rico and more, this is a bold and enlightening volume.   
*
By Sofia Romero (@sofiatromero). Blackstone Publishing. 195 pages. Out Oct. 10.
This debut collection of speculative stories from Pushcart Prize-nominated writer Sofia Romero illustrates her brilliant imagination, her divine timing and her mastery of subtle storytelling. They are urgent and deceptively quiet all at once.
*
Edited by Raven Belasco (@raven.belasco). Aqueduct Press. 308 pages. Out Oct. 16.
Is there anything scarier this Halloween than the loss of reproductive justice and bodily autonomy? (Okay, this may be only one of the scariest things happening right now, but…) Raven Belasco has assembled this inspiring collection and the good people at Aqueduct Press are giving all proceeds from the sale of the book to NARAL Pro-Choice America. So get yours and one for each of your friends!
*
By SJ Sindu (@sjsindu). Soho Press. 208 pages. Out Oct. 17.
This fresh collection got me out of my reading slump! Original, evocative and memorable, SJ Sindu's latest examines queerness, gender, class and more. I don't know how Sindu does it, but somehow these stories are surreal and subversive yet strangely relatable. That's talent.
*
By Mojgan Ghazirad (@mojgan.ghazirad). Blair. 320 pages. Out Oct.17.
Mojgan Ghazirad's stellar debut novel is based on her own harrowing experience growing up in Tehran during the 1979 Islamic Revolution. Through the eyes of young Moji, we witness the fear, her family's travel to the U.S. and their eventual return when Iran is at war with Iraq, and the oppressive changes to her country because of it.
*
By Tonia Sutherland (@toniasutherland). University of California Press. 232 pages. Out Oct. 17.
In Resurrecting the Black Body, Tonia Sutherland intricately examines Black embodiment, death and remembering, specifically the effects that inclusion and visibility within the digital archival record can have on individuals and the collective. Sutherland argues for autonomy and imagination in determining the Black digital afterlife.
*
By Farah Ali (@farahali06). Dzanc Books. 216 pages. Out Oct. 17.
The first novel by Farah Ali is one rife with compassion, clarity and candor. In the throes of disastrous climate change in Pakistan, water is scarce and people are growing desperate. From rural town to urban city, this story brilliantly examines family, love, and inequity in times of economic and ecological precarity.
*
By Kamala Joyce Platt. De Gruyter. 409 pages. Out Oct. 23.
Environmental racism is something about which we don't talk nearly enough and Kamala Joyce Platt has set out to remedy that. In her new book, she shares her investigation into successful collaborations between Chicanas and women in India who are fighting for environmental justice in interdisciplinary and creative ways.
*
By Lola Akinmade Åkerström (@lolaakinmade). William Morrow. 400 pages. Out Oct. 24.
In her sophomore novel, Lola Akinmade Åkerström focuses on three Black women in Sweden who are trying to have it all. If you can't have it all in Sweden, where can you? Tracing the complexities of love, career, family, race and patriarchy for modern women, the book is surprising, relatable and rich. 
*
By Briana Cole (@bcoleauthor). Dafina. 272 pages. Out Oct. 24.
Bestselling author Briana Cole has written many entertaining and engrossing books, and her latest is no different in this respect. The con is strong with this one, in which April has been so many different people she hardly knows who she really is most of the time. Find out the cost of the con in this savvy thriller.
*
By K-Ming Chang. One World. 288 pages. Out Oct. 24.
Wow, wow, wow. If you loved the weirdness of Chang's Bestiary and Gods of Want, you will love this one because it's even weirder. Chang is a master of beautiful gore, questionable relationships and surreal realism. In the phenomenal Organ Meats, two friends are bound by a red string, dog bloodlines and the violence that is being a girl.
*
By Tanisha C. Ford (@soulistaphd). Amistad. 368 pages. Out Oct. 24.
The brilliant Tanisha C. Ford has recovered the sparkling story of Mollie Moon, whose fundraising helped support the work of the civil rights movement. With rigorous research and signature finesse, Ford illustrates the oft-forgotten centrality of women in the movement. 
*
By Andrea Ritchie (@dreanyc123). AK Press. 304 pages. Out Oct. 24.
I love that two books from AK Press's Emergent Strategy series are on a list in the same month. And I love Andrea Ritchie's latest book exploring how we might utilize emergent strategies in our fight for abolition and liberation. It's powerful, practical and critical.
*
By Amanda Peters (Mi'kmaq). Catapult. 320 pages. Our Oct. 31.
This memorable debut is focused on the mystery of a young Mi'kmaq girl who disappears while picking blueberries. Through the perspectives of two very different families, Peters deftly tackles themes of abuse, colonialism, intergenerational trauma, grief and more. Keep the tissues nearby for this one.
*
By Vanessa Lillie (Cherokee) (@vanessalillie). Berkeley. 384 pages. Out Oct. 31.
This suspenseful mystery will not only captivate you, but it may just teach you something about Cherokee history, land rights and the plague of missing and murdered Indigenous women. Including queer and Two-Spirit characters, Blood Sisters is a meaningful and compelling thriller.
*
By Tananarive Due (@tananarivedue). Gallery/Saga Press. 576 pages. Out Oct. 31.
Last but certainly not least, you won't want to miss this terrifying new book by Tananarive Due, the award-winning master of horror and Afrofuturism. Suspenseful, powerful, enraging and engaging, The Reformatory combines the horrors of Jim Crow with the ghosts of a reform school tragedy. 
*
Up next:
U.S. democracy is at a dangerous inflection point—from the demise of abortion rights, to a lack of pay equity and parental leave, to skyrocketing maternal mortality, and attacks on trans health. Left unchecked, these crises will lead to wider gaps in political participation and representation. For 50 years, Ms. has been forging feminist journalism—reporting, rebelling and truth-telling from the front-lines, championing the Equal Rights Amendment, and centering the stories of those most impacted. With all that's at stake for equality, we are redoubling our commitment for the next 50 years. In turn, we need your help, Support Ms. today with a donation—any amount that is meaningful to you. For as little as $5 each month, you'll receive the print magazine along with our e-newsletters, action alerts, and invitations to Ms. Studios events and podcasts. We are grateful for your loyalty and ferocity.