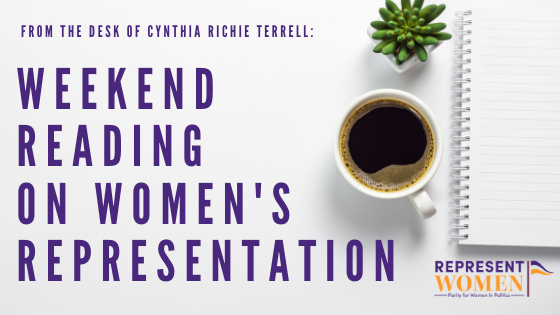 Weekend Reading on Women's Representation is a compilation of stories about women's representation in politics, on boards, in sports and entertainment, in judicial offices and in the private sector in the U.S. and around the world—with a little gardening and goodwill mixed in for refreshment!
---
In a little more than a month, we will know how many women get elected to Congress, to statewide executive offices, to state legislative seats, and to local positions across these United States. We will also see the results for ballot measures for ranked choice voting in Nevada, Seattle, Portland, Maine, and Portland, Ore. Evanston, & other jurisdictions. We'll also learn the outcomes for women who are ranked-choice voting champions like Kate Stewart who is running for county council in Montgomery County, Md., and Representative Mary Peltola who is running for a full term in Alaska. Of course there is a lot at stake in this election so I hope that you are making plans to vote on or before Nov. 8.
Democrats Nominate More Women of Color To Run for House Seats Than GOP
According to data compiled by the Center for American Women and Politics, the Democratic party has nominated more women of color than the Republican party, as this story in Politico reports:
A record-high number of women of color — 263 — ran for the House this year. That includes 92 Republicans and 171 Democrats — a record for both parties. "As you see women of color succeed at this level, hopefully, it both inspires other women of color to run, but also proves to practitioners and donors and gatekeepers in the political system that these women are well poised to succeed," Dittmar said.

In this data set, "women of color" includes women who identify as one or more of these categories, including women who identify as white with one of these other racial/ethnic identities: Black, Asian American/Pacific Islander, Latina/Hispanic, Native American/Alaska Native/Native Hawaiian and Middle Eastern/North African. (CAWP no longer reports an aggregate "women of color" in their analyses, and instead breaks it down by race and ethnicity. You can view that data here.)

There's a stark party divide when it comes to the number of women and women of color nominated in the primaries. But even though Democrats have higher numbers than Republicans, Republicans have seen notable gains compared to before the 2020 cycle. In 2018, 15 women of color from the Republican party were nominated in House primaries. That number more than doubled in 2020.
---
The Status of 'Record-Breaking Wins' for Women
In 2018, Republicans and Democrats combined nominated 16 women to be governor candidates. In 2022 this number has jumped to 25 (16 Democrats, nine Republicans).
Research associate Steph Scaglia found this article which says if enough of these women win, "the current record of nine female governors serving at the same time, first set back in 2004, could be broken."
New York, Massachusetts and Arkansas are likely to elect their first female governors. Georgia may elect their first woman governor, and Arkansas, Massachusetts, Ohio, Oklahoma and Rhode Island have the potential to be the first states to have women simultaneously in the offices of both governor and lieutenant governor.
But, as RepresentWomen noted in our annual 2022 Gender Parity Index, progress tends to be inconsistent. Outside of gubernatorial races, that is evident this year.
The number of female candidates running for Congress has dipped slightly compared to the record high levels reached in 2020 and the last midterm elections in 2018.

"For the past two cycles, much of the attention to women candidates (was) centered around the record number of women running for and winning office," said CAWP Scholar and Director of Research Kelly Dittmar…

There is less attention being paid to women running, a decision that "really ignores the important ways in which gender is still shaping women's decisions to, and experiences while running."
Inconsistent progress is normal, but shows that we must continue to push at full force in order to reach gender parity in government. See our numbers on women's political representation at all levels of government here.
---
Election in Brazil: Record Numbers of Indigenous Women Run for Office; Presidential Candidates Head to Costly Runoff Election
Brazil held elections for president, vice president, the national Congress and for statewide executive and legislative seats last weekend. While Luiz Inacio Lula da Silva won more votes than any other candidate, no candidate for president won a majority of votes and so the nation will vote again on Oct. 30.
The two-round runoff system used in a number of countries and U.S. states (like Georgia) is enormously expensive for both candidates and taxpayers. An obvious solution to this outdated procedure is ranked-choice voting that employs an 'instant-runoff' to determine majority winners from the same electorate and with far fewer dollars spent.
While the tally for the total number of women elected in last Sunday's election hasn't yet been released we do know that a record number of indigenous women ran for seats at the national, state and local levels. This story in The Washington Post tells some of their stories:
For more than two years, Vanda Ortega Witoto watched from her village in the Amazon as Brazil's chaotic response to the coronavirus brought catastrophe to her people.

"I saw my leader die without oxygen," said the 35-year-old nursing technician, a member of the Witoto people. "I saw my relatives being buried after no ambulance took them to the hospital."

Now Witoto, who lives in the remote Aldeia Colônia in Amazonas state, is running for Brazil's congress.

"We can't ask for help from the state when we don't have our representatives, because those who are there are not sensitive to our cause," she said. "They don't even know about our existence and have no reason to defend it."
---
Women Leaders in Malaysia Call for Gender Quotas
Women leaders in Malaysia—which ranks 142nd for women's representation, according to the IPU—have called for the introduction of gender quotas for political parties, as this piece from New Straits Times reports:
The Council of Malaysian Women Political Leaders (Comwel) today proposed for political parties in the country to introduce gender quotas for the selection of electoral candidates.

Its founder and president, Datuk Zuraida Kamaruddin, said this would work well to enhance women's participation in national politics.

"Political parties can also encourage greater participation of women in contests for party positions, including the top ones," she said in a statement today.

She said this in response to a move by Umno recently to ensure 30 per cent of its electoral candidates were women.
Gender quotas are used to advance women's representation at the precinct level & for party convention delegates in the United States and by 84 percent of the top ranked countries for women's representation according to research from RepresentWomen.
---
Longest-Serving Woman Head of State Visits the U.S.
"We need gender advocates at all levels.

We can lead by example."

– Sheikh Hasina, Prime Minister of Bangladesh 🇧🇩 at the #UNGA platform of #WomenLeaders. pic.twitter.com/YenabU5v9C

— UN GA President (@UN_PGA) September 20, 2022
One of my favorite columnists for The Washington Post, Petula Dvorak, had the opportunity to speak with Sheikh Hasina, the longest-serving woman head of state in the world, about her illustrious career in politics that includes surviving at least 20 attempts on her life:
"Women are better than men," she said. And laughed.

But seriously, she went on, because she is a woman, she said, she understands more intimately the struggle of poverty and education in Bangladesh, the obstacles that most women face, and how their stagnation slows a nation's progress.

In the past decade, she's significantly reduced poverty in her country, expanded educational opportunities and changed housing.

"No more of these, what do you call them, huts," she said. Even if they are simple structures — brick with a corrugated steel roof — Bangladesh makes housing a human right.

"And it will be in the name of the man AND the woman," she emphasized. And then the stage whisper again: "If they split up, the woman keeps the house. NOT the man."

The World Bank gives high marks to growth in Bangladesh under Hasina's leadership, noting it went from "being one of the poorest nations at birth in 1971" to reaching "lower-middle income status in 2015."

Through health care and housing, Hasina said investing in the women of Bangladesh helped elevate the nation.
---
This week we are also highlighting the number of Latinas running for the U.S. House. Happy Hispanic Heritage Month!
---
If you're looking for more news on international women's representation, our friend Akshi Chawla has an incredible blog called #WomenLead! Check out her most recent update from this week here.
---
This week I had the good fortune to speak to various audiences at Haverford College about democracy, ranked choice voting, and women's representation along with some other terrific speakers. I will be returning to the Haverford campus later this month to be the Friend in Residence so please let me know if you'd like to connect while I am in the Philadelphia area to talk about politics, women's representation and/or Quakerism.
Also, anemones and toad lilies are blooming in my garden, so I know the colder temperatures are settling in.
That's it for this week, my friends,
Cynthia
U.S. democracy is at a dangerous inflection point—from the demise of abortion rights, to a lack of pay equity and parental leave, to skyrocketing maternal mortality, and attacks on trans health. Left unchecked, these crises will lead to wider gaps in political participation and representation. For 50 years, Ms. has been forging feminist journalism—reporting, rebelling and truth-telling from the front-lines, championing the Equal Rights Amendment, and centering the stories of those most impacted. With all that's at stake for equality, we are redoubling our commitment for the next 50 years. In turn, we need your help, Support Ms. today with a donation—any amount that is meaningful to you. For as little as $5 each month, you'll receive the print magazine along with our e-newsletters, action alerts, and invitations to Ms. Studios events and podcasts. We are grateful for your loyalty and ferocity.
Up next: