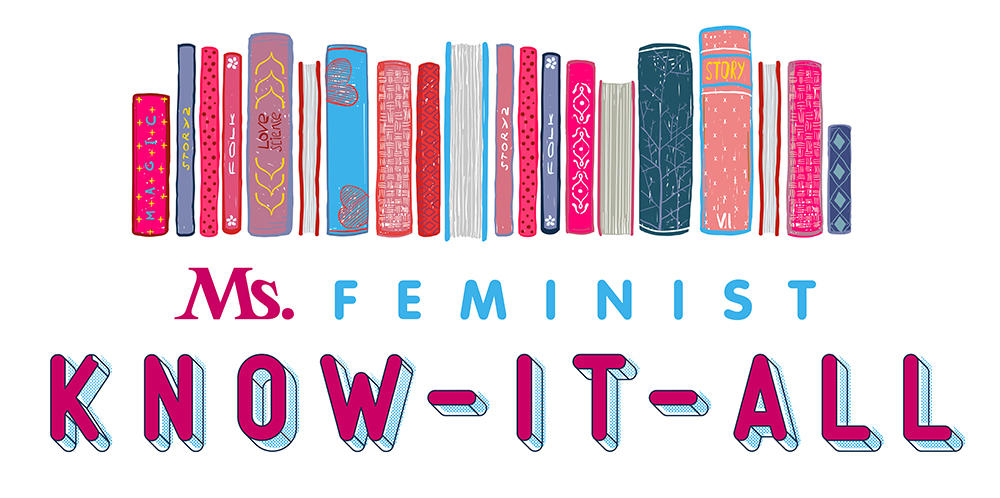 The Feminist Know-It-All: You know her. You can't stand her. Good thing she's not here! Instead, this column by gender and women's studies librarian Karla Strand will amplify stories of the creation, access, use and preservation of knowledge by women and girls around the world; share innovative projects and initiatives that focus on information, literacies, libraries and more; and, of course, talk about all of the books.
---
If you're reading this column, you have an interest in books and reading and so, by default, new ideas and expanding your knowledge base. 
Fiction or nonfiction, comics or academic theory, 20 pages or 200 pages, romance or Afrofuturism, in whatever language … when you read, you expand your mind. 
No matter one's age, reading provides essential information to those who need it and whole new worlds to those who desire them. Reading offers solace, peace, joy, safety, friendship and understanding to anyone who opens the cover of just the right book at just the right time.
Of course, you know there are whole factions of people in this country who want to take this joy, this information, this wellspring of ideas and knowledge away from kids in schools and public libraries. Book banning and censorship have become real threats to the freedoms, education and spirits of our kids. To be sure, this is only the beginning; they won't stop until they have rid the country of ideas they deem inappropriate or dangerous. 
My hope is that each of you reading this column will do some research in your own communities to find out where the threats to the freedom to read lie. Talk to your local school and public librarians. Call your legislators, sign the petitions, run for your local school board, raise hell.
And also, keep reading. Read the 34 books on this list or whatever else you can get your hands on. Then pass those books on to your friends, your kids, your friends' kids, or donate them to your libraries and schools.  
---
By Cynthia J. Sylvester (Diné). University of New Mexico Press. 184 pages. Out Apr. 1.
This compelling debut collection explores liminal spaces, love, trauma and healing through poetry, fiction and nonfiction. Sylvester's writing is radiant, the musicality is visceral and the voices are captivating and prismatic.
*
By Ronya Othmann (@OthmannRonya). University of Wisconsin Press. Out Apr. 1.
In Ronya Othmann's thoughtful debut novel, a Yazidi–Kurdish–German girl spends summers with her father's family along the Syrian borderlands. With themes of tradition, sexuality, family, and identity, this is a touching, evocative and engaging story.
*
By Tiffany Clarke Harrison (@tiffanyclarkeharrison). Soft Skull. 160 pages. Out Apr. 4.
This is a singular debut about biracial motherhood in all its modern complexities, especially in the face of police brutality, racism, ambivalence, fear and grief. With raw compassion and vulnerability, Tiffany Clarke Harrison explores infertility, miscarriage and self in unsparing and intimate prose.
*
By Gayl Jones. Beacon Press. 200 pages. Out Apr. 4.
At this point, I will read anything Gayl Jones has written, and you should too. This is a collection of novellas and stories, some never-before-published and others substantially revised.
*
By Tamika Y. Nunley (@TamikaYNunley). University of North Carolina Press. 258 pages. Out Apr. 4. 
In what must've been a feat of research, Tamika Y. Nunley has found and examined cases of enslaved women accused of capital crimes in Virginia and why they were often afforded "clemency" by owners. Through their heartbreaking stories, Nunley significantly illustrates how these women challenged the laws and structures of slavery and injustice.
*
By Brianna Craft (@brianna.m.craft). Lawrence Hill Books. 288 pages. Out Apr. 4.
We need all the books about climate change right now, written by all the people with the knowledge and expertise to show and tell us how to save the planet. Brianna Craft is one of those people, and this is one of those books.
*
By Dionne Ford (@dionneford). Bold Type Books. 256 pages. Out Apr. 4.
In her powerful memoir, Dionne Ford tells the story of finding a photograph that leads her to unexpected discoveries in her family's past and the healing of the intergenerational trauma it unleashes.
*
By Leta McCollough Seletzky (@LaSeletzky). Counterpoint. 304 pages. Out Apr. 4.
I can't wait to read this memoir written by the daughter of the man who kneeled next to Rev. Dr. Martin Luther King, Jr. outside the Lorraine Motel on the fateful day he was assassinated. We've all seen the photograph, and now we can more fully understand the story.
*
By Nicole Chung (@nicolesjchung). Ecco. 256 pages. Out Apr. 4.
If you read Nicole Chung's All You Can Ever Know, you can understand why her latest is on this list (and many others!). If you aren't familiar, now's your chance to get acquainted through this memoir of family, heritage, loss, home and hope.
*
By Hayley Gold. Street Noise Books. 240 pages. Out Apr. 4.
Hayley Gold has created a candid, witty and reflective examination of life with disordered eating. At the same time, she presents a damning portrait of what passes for treatment and how it can be just as damaging as the illness itself.
*
Edited by Rebecca Solnit (@rebeccasolnit) and Thelma Young Lutunatabua (@thelma_lutun). Haymarket Books. 200 pages. Out Apr. 4.
I always appreciate Rebecca Solnit's views and when joined by activist Thelma Young Lutunatabua, you can bet I'm going to listen to the case they make for hope when it comes to climate change. Because we could all use a little hope to inspire more action to save the planet. It's not too late!
*
By Kathryn Walkiewicz (Cherokee Nation/ᏣᎳᎩᎯ ᎠᏰᎵ). University of North Carolina Press. 314 pages. Out Apr. 4.
This is an important new exploration into the role of statehood, land dispossession and racism in the settler colonial expansion efforts of the 19th-century US. Significantly, Walkiewicz convincingly illustrates how Indigenous and Black communities used dissent and imagination to resist the removal of land and sovereignty.
*
Written by Aisha Muhammed-Oyebode. Photography by Akintunde Akinleye. powerHouse Books. 278 pages. Out Apr. 4.
Most of us recall the 2014 terrifying kidnapping of 276 girls from their school dorms by the terrorist group Boko Haram in Chibok, Nigeria. This extraordinary volume collects essays by experts as well as photos and interviews of 152 of the 210 Chibok families documented by the book's creators.
*
By Juana María Rodríguez (@RadioRodriguez). Duke University Press. 288 pages. Out Apr. 7.
In this significant and remarkably researched new volume, Juana María Rodríguez deeply explores visual representations of Latina sex work and sexuality, shedding light on issues of aesthetics, embodiment, violence, misogyny, humanity and care.
*
Edited by Mel Y. Chen, Alison Kafer, Eunjung Kim and Julie Avril Minich. Duke University Press Books. 384 pages. Out Apr. 7.
This is an essential anthology that challenges the existing (white, Western/Northern, imperialist) frameworks of disability studies in favor of lenses focused on transnational feminism and queer/trans of color critique and activism. It includes contributions from Leah Lakshmi Piepzna-Samarasinha, Sami Schalk, Stacey Park Milbern, Faith Njahîra Wangarî and more.
*
By Jayne Allen (@jayneallenwrites). Harper Perennial. 288 pages. Out Apr. 11. 
This is the final installment of Jayne Allen's smart and dynamic Black Girls Must Die Exhausted trilogy. Check it out to check in on Tabitha, her work, her relationships, her baby and most importantly, how it all turns out.
*
Written by Izumi Suzuki. Translated by Sam Bett (@sambett), David Boyd (@_davidboyd) and Daniel Joseph. Verso Fiction. 288 pages. Out Apr. 11.
I was so curious about this collection of stories by Izumi Suzuki, a Japanese sci-fi writer whose work I had actually never read, despite her cult following. Described as "wryly anarchic and deeply imaginative," it was at the top of my TBR list and it did not disappoint. I can say I've never read anything quite like it, and it was wondrous.
*
By Lorraine Avila (@lorraineavila_). Levine Querido. 352 pages. Out Apr. 11.
Lorraine Avila's impressive and urgent YA debut is a feat of courage, passion and originality. In it, she takes on racism, violence and injustice with a mix of magic, spirituality and care that few have attempted—and she's captivatingly successful.  
*
Two Lines Press. 144 pages. Out Apr. 11.
If you're a regular reader of this column, you'll know I'm a big fan of The Calico Series from Two Lines Press. The latest volume is the first collection of Swahili fiction in English translation and it is captivating and lyrical, sharp and lingering. Don't miss it.
*
By Helen Elaine Lee. Atria Books. 352 pages. Out Apr. 11.
This is a bold novel about the effects of addiction and incarceration on one queer Black woman. Even more so, it is a complex, layered illustration of the effects of structural racism, patriarchy, marginalization and violence can have on queer Black women throughout the U.S.
*
By Kōtuku Titihuia Nuttall (Te Ātiawa, Ngāti Tūwharetoa, W̱SÁNEĆ) (@kotukutitihuia). House of Anansi Press. 224 pages. Out Apr. 11.
By a talented writer of Māori and Coast Salish descent, this novel is imaginative and inventive both in substance and in format. It centers Indigenous women and their collectivity, autonomy, wisdom, resilience and truths.
*
By Shubha Sunder. Black Lawrence Press. 175 pages. Out Apr. 14.
Winner of the 2021 St. Lawrence Book Award, Boomtown Girl is a nuanced and insightful collection of stories set in the Bangalore region of South India. Focused on themes of development, colonialism, tradition and globalization, this is a kaleidoscopic and intricately rendered volume. 
*
By Heather McTeer Toney (@HeatherMcTeer). Broadleaf Books. 198 pages. Out Apr. 18.
With Black Americans bearing the disproportionate brunt of climate change effects, Heather McTeer Toney has provided this impassioned, accessible and urgent clarion call for climate justice and action in communities far and wide.
*
By Julia Lee (@profjulialee). Henry Holt & Co. 256 pages. Out Apr. 18.
When Jamaica Kincaid and Kiese Laymon rave about a book, I read it. Such is the case with this memoir focused on growing up Asian in the midst of the complex, confusing and often shameful racial stratification of the U.S.
*
Edited by Julia S. Jordan-Zachery (@Dr_JZ) & Shamara Wyllie Alhassan. University of Arizona Press. 304 pages. Out Apr. 18.
In what is sure to be years of publications examining the effects of the COVID-19 pandemic, this volume leads the pack in its interdisciplinarity, innovation, consciousness and clarity, as well as its focus on collectivity and care.
*
By Jacqueline Crooks (@Luidas). Viking. 352 pages. Out Apr. 18.
Now longlisted for the Women's Prize for Fiction, Jacqueline Crooks' debut novel is a powerhouse of color, music, feminism, grief and vision brimming against the backdrop of the Jamaican diaspora of 1980s London.
*
By Ajiri Aki (@ajiriaki). Clarkson Potter. 272 pages. Out Apr. 18.
This book is stunningly beautiful and so full of hope, loving suggestions and reminders that life is meant to be lived with (and in) joy. I will make it to Paris one day, but until I do, I will turn to Ajiri Aki for soothing inspiration.  
*
By Nick Medina (Tunica-Biloxi) (@MedinaNick). Berkley. 352 pages. Out Apr. 18.
This debut takes on this missing and murdered Indigenous women crisis through a young Native girl's search for those disappearing from her own reservation. This thriller incorporates myth and tradition into the suspense and horror of this mystery.
*
By Tananarive Due (@TananariveDue). Akashic Books. 296 pages. Out Apr. 18.
One of the foremost experts and innovators of horror and Afrofuturism is back with her second collection of stories that will thrill, confound and terrify you – and invite you to reflect on race, fear and hope.
*
By Christina Sharpe. Farrar, Straus and Giroux. 392 pages. Out Apr. 25.
This is the original and layered latest work by Christina Sharpe that builds upon a series of 248 notes focused on Black life, loss, beauty, hope and possibility. It's evocative, reflective, and extraordinary.
*
By L. Ayu Saraswati. NYU Press. 232 pages. Out Apr. 25.
With her latest book, L. Ayu Saraswati offers readers an original, inclusive and intimate examination of pain through a feminist lens. As rigorous as it is readable, Scarred seeks to reframe our relationships to pain, healing, embodiment and enchantment.
*
By Brittany N. Williams (@BrittanyActs). Abrams Books. 352 pages. Out Apr. 25.
This is the first book in the new Forge & Fracture Saga by debut author Brittany N. Williams. Diligently researched, exquisitely written, super-fun and full of fae, this YA fantasy is pure queer magic.
*
By Christina Vo (@stina_vo). She Writes Press. 224 pages. Out Apr. 25.
Christina Vo's first book is a graceful memoir with which many readers will empathize. As a forty-something single woman, Vo journeys to explore her past, her parents and the connections that led her to her current understanding of home and self.
*
By The Indiana Women's Prison History Project. The New Press. 352 pages. Out Apr. 25.
This is the groundbreaking collection of histories about the first women's prison, written by the (current and former) prisoners themselves and I am here for it. We need more of this type of investigation into carceral institutions in the U.S. and more of this type of participation in the field of U.S. history. 
Up next:
U.S. democracy is at a dangerous inflection point—from the demise of abortion rights, to a lack of pay equity and parental leave, to skyrocketing maternal mortality, and attacks on trans health. Left unchecked, these crises will lead to wider gaps in political participation and representation. For 50 years, Ms. has been forging feminist journalism—reporting, rebelling and truth-telling from the front-lines, championing the Equal Rights Amendment, and centering the stories of those most impacted. With all that's at stake for equality, we are redoubling our commitment for the next 50 years. In turn, we need your help, Support Ms. today with a donation—any amount that is meaningful to you. For as little as $5 each month, you'll receive the print magazine along with our e-newsletters, action alerts, and invitations to Ms. Studios events and podcasts. We are grateful for your loyalty and ferocity.