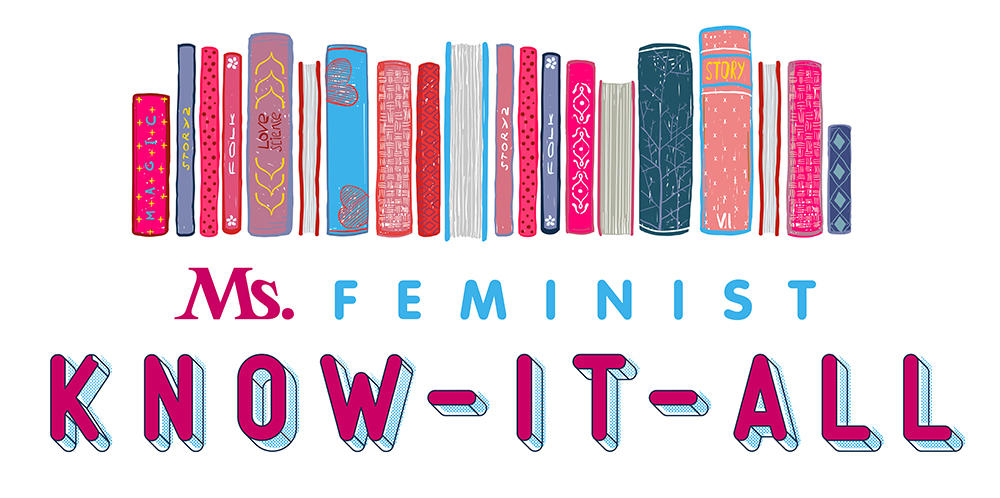 The Feminist Know-It-All: You know her. You can't stand her. Good thing she's not here! Instead, this column by gender and women's studies librarian Karla Strand will amplify stories of the creation, access, use and preservation of knowledge by women and girls around the world; share innovative projects and initiatives that focus on information, literacies, libraries and more; and, of course, talk about all of the books.
---
Through this column, I provide Ms. readers with a list of new books being published by writers from historically excluded groups.
The aims of the column are threefold:
I want to do my part in the disruption of what has been the acceptable "norm" in the book world for far too long—white, cis, heterosexual, male;
I want to amplify amazing works by writers who are women, Black, Indigenous, Latinx, APIA/AAPI, international, LGBIA+, TGNC, queer, disabled, fat, immigrant, Muslim, neurodivergent, sex-positive or of other historically marginalized identities—you know, the rest of us; and
I want to challenge and encourage you all to buy, borrow and read them!
You've seen the other "most anticipated books for 2023" lists, now read this one… you know, for the rest of us!
I have spent the last few months scouring catalogs and websites, receiving hundreds of books and even more emails from authors, publicists and publishers, reading your book Tweets and DMs, all to find out what books are coming out in 2023 that I think you, my exceptional, inquisitive and discerning Ms. readers, will want to hear about.
But let's state the obvious first. I know I am biased but the first book I am most excited about this year is releasing in September. It's 50 Years of Ms.: The Best of the Pathfinding Magazine That Ignited a Revolution, of course, edited by Kathy Spillar, with an introduction by Ellie Smeal and a foreword by Gloria Steinem! Preorder yours and be sure to celebrate with us all year long.
Okay, now on to the rest of the list. There are more than 80 books here and honestly, for each one I've included, there are at least two (or 10) other great books coming out by women of color, femmes, queer and gender-diverse writers that I could've picked. It was near impossible to choose from among them, and that is so great! I love seeing more books each year that challenge the colonizer status quo of publishing and open more hearts and minds to the delicious joy and wisdom that comes from reading books outside our usual shelves.
So some of the well-publicized books you've probably already heard about and should absolutely read but that aren't on this list include Rebecca Makkai's I Have Some Questions for You (Feb. 21); Jessica George's Maame (Jan. 31); Ayọ̀bámi Adébáyọ̀'s A Spell of Good Things (Feb. 7); Rachel Heng's The Great Reclamation (Mar. 28); and more.
While there are some books here from the Big Publishers—HarperCollins included, but I remain in full support of the strike—I focus my energies on indie publishers, debut authors and those who may not have the resources of the heavy hitters. These are still amazing books by wonderful writers that you should definitely check out.
So let's get to it!
The fine print:
You'll notice the list is front-loaded because, well, we know about more books coming out in the next few months than those coming in the fall.
Release dates are always subject to change, especially for books due to come out later in the year.
I include nonfiction and academic titles because I know you are smart people who are always learning!
I also include young adult (YA) books because they are often on the cutting edge in terms of character inclusion and candor about the realities of the world in which we live.
I don't include poetry (SORRY!) only because the list is already so long—but watch for my poetry round-up coming in April.
I am certain to have missed some fine new books or just decided not to include others. I can't include them all, so when I curate these lists, I choose to highlight debut authors and indie publishers presuming the big names may have the resources to reach more people on their own. (That's why it's a damn good thing I give you a list of new releases every month so be sure to come back to check those out.)
TL;DR: Here's your TBR (to be read) for the year. Enjoy!
---
January
(See my list of January Reads for more!)
By Jessica Johns (Sucker Creek First Nation) (@JessicaStellaaa). Doubleday. 272 pages. Out now.
After her sister dies, Mackenzie is riddled with guilt and all-too-real dreams, not to mention the murder of crows that seem to be following her every move. Johns has crafted a magical debut thriller that is both terrifying but also lovingly written.
*
By Marisa Crane (@MCrane_12). Catapult. 352 pages. Out now.
This singular debut offers a fresh peek at our dystopian future, one in which wrongdoers carry around extra shadows as reminders and warnings of their misdeeds. As one mom struggles to raise her child after her wife dies, she leans on others to resist the injustices of the surveillance state.
*
By Kidada E. Williams (@KidadaEWilliams). Bloomsbury Publishing. 384 pages. Out now.
In this extraordinary work of scholarship, Williams offers an insightful reexamination of the Reconstruction period and the African American people who lived through it. By centering formerly enslaved peoples' experiences, Williams challenges previous exclusion, misrepresented understandings and disputed legacies.
*
By Jamila Minnicks (@Lioness_Tales). Algonquin Books. 336 pages. Out now.
In this impressive debut, Minnicks presents a fresh look at the Civil Rights Movement in Alabama. As the all-Black town of New Jessup considers integration, its residents are at odds with how to move forward. The book triumphs in its quest to offer a provocative perspective on racial justice, sovereignty and joy.
*
By Sarah Eagle Heart (Oglála Lakota) (@ms_eagleheart) and Emma Eagle Heart-White (Oglála Lakota). The Feminist Press at CUNY. 296 pages. Out now.
These sisters take healing into their own hands with this part-memoir, part-guidebook that's focused on strategies of Indigenous knowledge, collectivism and reciprocity.
*
By Toshio Meronek (@TMeronek) and Miss Major Griffin-Gracy (@ImMissMajor). Verso. 176 pages. Out Jan. 31.
In this slim but expansive volume, the legendary Miss Major reflects on her life, her activism and her vision for the future. There's not much more to say except that It's Miss Major, and you should consider it #RequiredReading.
---
February
By Nanjala Nyabola (@nanjalaone). Hurst. 224 pages. Out Feb. 1.
Among the first new books examining the global COVID pandemic, this collection of essays offers imperative reflections on Western responses that led to exacerbated inequities throughout the Global South in particular.
*
By Gothataone Moeng (@onemoeng). Viking. 304 pages. Out Feb.7.
The stories in Moeng's debut collection are grounded in her experience of life in Botswana. Focused on everyday life and families there, the book incorporates both unique and universal themes of relationships, infidelity, loss, sexuality, community, opportunity and love.
*
By Cara Page and Erica Woodland (@ebmore1). North Atlantic Books. 320 pages. Out Feb. 7.
Dorothy Roberts describes this as "an essential guide for all abolitionists," and I need no more convincing. Get it, read it, live it, pass it on.
*
By Lamya H (@lamyaisangry). The Dial Press. 304 Pages. Out Feb. 7.
This is an exciting and candid new memoir in essays from a queer hijabi Muslim immigrant who makes sense of her attraction to women through stories from the Quran. It's being heralded as a new queer classic.
*
Written by Mariana Enriquez. Translated by Megan McDowell. Hogarth. 608 pages. Out Feb. 7.
This is the first novel written by Argentine author Mariana Enriquez to be translated into English, and it is getting all the accolades. It's also a dark, dystopian, supernatural, queer, occult horror, so sign me up!
*
By Margaret Verble (Cherokee). Mariner Books. 256 pages. Out Feb. 7.
With this latest novel, Pulitzer Prize finalist Margaret Verble examines friendship, family ties and the violence of colonialism in this harrowing story of a Cherokee child stolen from her family and sent to a boarding school in the 1950s.
*
By Cherie Dimaline (Georgian Bay Métis) (@cherie.dimaline). William Morrow. 400 pages. Out Feb. 7.
Luckily for me, Cherie Dimaline—one of my favorite writers—has been exceptionally busy of late! Not only has she written this magical story centering witchy women everywhere, but she's also got a haunting YA novel coming on April 4 (Funeral Songs for Dying Girls, Tundra Books) and she's sharing a candid personal essay on Feb. 16 (An Anthology of Monsters: How Story Saves Us from Our Anxiety, University of Alberta Press). Just read 'em all; I'm going to!
*
By Barbara Brandon-Croft. Drawn & Quarterly. 184 pages. Out Feb. 7.
In 1989, Barbara Brandon-Croft was the first Black woman cartoonist to enter national syndication with her comic strip Where I'm Coming From. This beautiful book celebrates Brandon-Croft and her trailblazing work.
*
By Jennifer Maritza McCauley. Counterpoint. 272 pages. Out Feb. 7.
Centering on Black American and Afro-Puerto Rican perspectives, these stories will beguile and intrigue. They are equally tender and sharp, gentle and defiant, delicate and resilient.
*
Edited by Erin Sharkey (@erinjaws). Milkweed Editions. 312 pages. Out Feb. 14.
This brilliant collection includes contributions from Erin Sharkey, Carolyn Finney, Lauret Savoy, Alexis Pauline Gumbs and others, writing about nature, land, wilderness and wildness.
*
By Camonghne Felix (@camonghne). One World. 240 pages. Out Feb. 14.
After a terrible heartbreak, Camonghne Felix did some deep soul searching, reflecting on her past, her traumas and her dyscalculia diagnosis in order to make sense of it. The outcome is this extraordinary volume reckoning with intimacy, healing, perception, love and loss.
---
March
By Deborah D.E.E.P. Mouton (@livelifedeep). Henry Holt & Co. 320 pages. Out Mar. 7.
This is a loving memoir, lyrically and uniquely written by the first Black Poet Laureate of Houston, Texas. An ode to Black womanhood, it explores the complexities, depths, pains, joys and brilliance of living your truth.
*
By Aurora Mattia. Nightboat Books. 288 pages. Out Mar. 7.
Aurora Mattia has written a strange, twisting, mythical maze of a book that centers trans loves and lives in ways that will thrill and delight you. Allow yourself to be transported.
*
By Hawon Jung (@allyjung). BenBella Books. 304 pages. Out Mar. 7.
Journalist Hawon Jung offers this timely and important exploration of feminism in South Korea and the courage of the movement in the face of deeply ingrained patriarchy and seemingly ubiquitous barriers to women's equality.
*
By Malka Older (@m_older). Tordotcom. 176 pages. Out Mar. 7.
I'm not usually one for cozy mysteries or romances (even if they are Sapphic), but this one may just turn me … it's set on Jupiter! I am excited to give it a try, especially because Charlie Jane Anders calls it "an utter triumph."
*
By Leila Aboulela (@leilaaboulela). Grove Press. 400 pages. Out Mar. 7.
Leila Aboulela, the first-ever winner of the Caine Prize for African Writing, has written a novel about one of the most important events in Sudanese history, the Mahdist War, and has centered women while doing it.
*
Written by LasTesis (@lastesisoficial). Translated by Camila Valle. Verso. 112 pages. Out Mar. 7.
This is the unflinching, defiant, triumphant manifesta of LasTesis, the badass Chilean performance collective on the leading edge of the feminist movement across South America.
*
By Claire Jiménez (@clairedjimenez). Grand Central Publishing. 240 pages. Out Mar. 7.
At turns desperate and witty, fresh and familiar, Jiménez's debut taps into universal themes of familial relationships and shines a light on the lasting intergenerational effects of colonialism, violence, racism and tradition.
*
By Mia Tsai (@mia.tsai.books). Tachyon Publications. 272 pages. Out Mar. 14.
I love a good fantastical, paranormal romance, don't you? About the only romance novels I go for these days include elves and fairies in slow-burn steam and magical mythology anyway, and Mia Tsai's debut has plenty of all of it!
*
By Nguyễn Phan Quế Mai (@nguyen_p_quemai). Algonquin Books. 352 pages. Out Mar. 14.
From the author of the bestselling book The Mountains Sing comes this epic story of those who lived through the Việt Nam conflict or were otherwise deeply affected by it decades later.
*
By Meredith Broussard (@merbroussard). MIT Press. 248 pages. Out Mar. 14.
With her latest book, Meredith Broussard picks up on the threads of Safiya Noble and Ruha Benjamin as she demonstrates how technology reinforces injustice through its ubiquitous algorithms and questionable human interactions.
*
By Yxta Maya Murray (@murrayyxta). Curbstone Books. 200 pages. Out March 15.
Yxta Maya Murray's latest examines the real-life nuclear meltdown and accidents that occurred in 1960s Simi Valley, California. Although not well known, these incidents had far-reaching health and environmental consequences, which Murray details in this powerful and genre-defying book.
*
By Joyce Farmer, Lyn Chevli and Mary Fleener. Fantagraphics. 368 pages. Out Mar. 21.
Joyce Farmer and Lyn Chevil created the comics series Tits & Clits in 1972. In response to repressive, patriarchal comics, Tits & Clits celebrated women's sexuality, sometimes in outrageous and shocking detail. For the first time, this collection of women-edited underground comics will be available in a single volume from Fantagraphics.
*
By Soraya Palmer (@sorayaonfiyah). Catapult. 288 pages. Out Mar. 28.
This debut is one of magic, myth, spirits and folktales as it introduces readers to Jamaican-Trinidadian sisters Zora and Sasha. The sisters and their troubled parents must face the family secret that haunts them from beyond.
*
By Gina Chung (@ginathechung). Vintage. 288 pages. Out Mar. 28.
Like many others, I too am super-excited about this wild debut by Gina Chung. The octopus, the originality, and yet, the relatability of it is giving it wide appeal to readers like me. And you! So don't miss this one.
---
April
By Tiffany Clarke Harrison (@tiffanyclarkeharrison). Soft Skull. 160 pages. Out Apr. 4.
This is a singular debut about biracial motherhood in all its modern complexities, especially in the face of police brutality, racism, ambivalence, fear and grief.
*
By Gayl Jones. Beacon Press. 200 pages. Out Apr. 4.
At this point, I will read anything Gayl Jones has written, and you should too. This is a collection of novellas and stories, some never-before-published and others substantially revised.
*
By Brianna Craft (@brianna.m.craft). Lawrence Hill Books. 288 pages. Out Apr. 4.
We need all the books about climate change right now, written by all the people with the knowledge and expertise to show and tell us how to save the planet. Brianna Craft is one of those people and this is one of those books.
*
By Dionne Ford (@dionneford). Bold Type Books. 256 pages. Out Apr. 4.
In her powerful memoir, Dionne Ford tells the story of finding a photograph that leads her to unexpected discoveries in her family's past and the healing of the intergenerational trauma it unleashes.
*
By Leta McCollough Seletzky (@LaSeletzky). Counterpoint. 304 pages. Out Apr. 4.
I can't wait to read this memoir written by the daughter of the man who kneeled next to Rev. Dr. Martin Luther King, Jr. outside the Lorraine Motel on the fateful day he was assassinated. We've all seen the photograph and now we can more fully understand the story.
*
By Nicole Chung (@nicolesjchung). Ecco. 256 pages. Out Apr. 4.
If you read Nicole Chung's All You Can Ever Know, you can understand why her latest is on this list (and many others!). If you aren't familiar, now's your chance to get acquainted through this memoir of family, heritage, loss, home and hope.
*
Edited by Rebecca Solnit (@rebeccasolnit) and Thelma Young Lutunatabua (@thelma_lutun). Haymarket Books. 200 pages. Out Apr. 4.
I always appreciate Rebecca Solnit's views and when joined by activist Thelma Young Lutunatabua, you can bet I'm going to listen to the case they make for hope when it comes to climate change. Because we could all use a little hope to inspire more action to save the planet. It's not too late!
*
Edited by Mel Y. Chen, Alison Kafer, Eunjung Kim and Julie Avril Minich. Duke University Press Books. 384 pages. Out Apr. 7.
This is an essential anthology that challenges the existing (white, Western/Northern, imperialist) frameworks of disability studies in favor of lenses focused on transnational feminism and queer/trans of color critique and activism. It includes contributions from Leah Lakshmi Piepzna-Samarasinha, Sami Schalk, Stacey Park Milbern, Faith Njahîra Wangarî and more.
*
Written by Izumi Suzuki. Translated by Sam Bett (@sambett), David Boyd (@_davidboyd) and Daniel Joseph. Verso Fiction. 288 pages. Out Apr. 11.
I am so curious about this new collection of stories by Izumi Suzuki, a Japanese sci-fi writer whose work I've actually never read, despite her cult following. Described as "wryly anarchic and deeply imaginative," this volume is at the top of my TBR list.
*
By Helen Elaine Lee. Atria Books. 352 pages. Out Apr. 11.
This is a powerful novel about the effects of addiction and incarceration on one queer Black woman. Even more so, it is a complex, layered illustration of the effects of structural racism, patriarchy, marginalization and violence can have on queer Black women throughout the U.S.
*
By Kōtuku Titihuia Nuttall (Te Ātiawa, Ngāti Tūwharetoa, W̱SÁNEĆ) (@kotukutitihuia). House of Anansi Press. 224 pages. Out Apr. 11.
By a talented writer of Māori and Coast Salish descent, this novel is imaginative and inventive both in substance and in format. It centers Indigenous women and their collectivity, autonomy, wisdom, resilience and truths.
*
By Erum Shazia Hasan. ECW Press. 280 pages. Out Apr. 11.
From her home in LA, Maya helps run an orphanage with Marc, who is on the ground in the African village. When he's accused of sexually assaulting a local girl, Maya is forced to confront the power, responsibility and violence often found in systems of charity throughout the world.
*
By Julia Lee (@profjulialee). Henry Holt & Co. 256 pages. Out Apr. 18.
When Jamaica Kincaid and Kiese Laymon rave about a book, I read it. Such is the case with this memoir focused on growing up Asian in the midst of the complex, confusing and often shameful racial stratification of the U.S.
*
By Nick Medina (Tunica-Biloxi) (@MedinaNick). Berkley. 352 pages. Out Apr. 18.
This debut takes on this missing and murdered Indigenous women crisis through a young Native girl's search for those disappearing from her own reservation. This thriller incorporates myth and tradition into the suspense and horror of this mystery.
*
By The Indiana Women's Prison History Project. The New Press. 352 pages. Out Apr. 25.
This is the groundbreaking collection of histories about the first women's prison, written by the (current and former) prisoners themselves and I am here for it. We need more of this type of investigation into carceral institutions in the U.S. and more of this type of participation in the field of U.S. history.
---
May
By Magogodi oaMphela Makhene (@magogodimakhene). W. W. Norton & Company. 224 pages. Out May 2.
The relationship I've been lucky enough to have with South Africa is one of my most cherished. So I am especially excited about this debut collection of stories set in Soweto, centering Black South Africans and township life through apartheid and beyond.
*
By Gina Apostol. Soho Press. 480 pages. Out May 2.
I love Gina Apostol's writing, so am thrilled to dig into her latest novel which centers on one woman's search for her family's truth in the Philippines after the passing of her mother. In so doing, she uncovers the challenging truths of her family and her country.
*
by Moniquill Blackgoose (Seaconke Wampanoag). Del Rey. 528 pages. Out May 9.
Check it out: a young Indigenous girl finds a dragon's egg and starts attending a "colonizer-run dragon academy." Of course she deals with colonizer BS, which prompts her to challenge the school traditions – and to change the world. Yes, please!
*
By Ana Castillo (@the_official_ana_castillo). HarperVia. 256 pages. Out May 16.
Legendary writer Ana Castillo's latest is a collection centering women and their stories of family life, secrets, disappointment, autonomy, meaning and ultimately, hope and freedom.
*
Written by María Fernanda Ampuero (@mariafernandamp). Translated by Frances Riddle (@francesriddle11). Feminist Press. 144 pages. Out May 16.
I loved Cockfight, Ampuero's story collection from 2020. This collection of twelve stories has been described as "grotesque, unflinching" and "unrepentant feminist fiction" by Publishers Weekly. Say no more, I'll be right there.
*
By Kelly Hayes (Menominee) (@MsKellyMHayes) and Mariame Kaba (@prisonculture). Haymarket Books. 220 pages. Out May 16.
If you are tired and overwhelmed with the daily work of resistance, fighting for justice and well, life, this volume will provide support and guidance from its wildly wise authors who also include pearls from Barbara Ransby, Ejeris Dixon, Ruth Wilson Gilmore and others.
*
By Jane Wong (@paradeofcats). Tin House Books. 304 pages. Out May 16.
As a fan of Jane Wong's poetry, I am looking forward to her debut memoir. More than a story of immigration or of one US city, it explores the complexities of life and the dichotomies of emotion and experience that can occur within a single person.
*
By R. F Kuang (@kuangrf). William Morrow. 336 pages. Out May 16.
R.F. Kuang wrote one of my favorite books of 2022, Babel, so I am excited to get into her latest novel. This one is about plagiarism and appropriation in publishing, which seems timely and poignant.
*
By Pashtana Durrani (@barakpashtana) and Tamara Bralo. Citadel. 288 pages. Out May 23.
Pashtana Durrani is an Afghani activist, Amnesty International Global Youth Ambassador and founder of LEARN, a nonprofit dedicated to providing quality healthcare and education in conflict zones. The book shares her inspirational story and a portion of its sales will benefit LEARN.
*
By Debra Magpie Earling (Bitterroot Salish). Milkweed Editions. 264 pages. Out May 23.
This is one that I am extra excited about. From the author of the amazing Perma Red is a story that reimagines the life, gifts and legacy of Sacajewea (Lemhi Shoshone) from her own perspective.
*
By B.L. Blanchard (Sault Ste. Marie Chippewa) (@blblanchard). 47North. Out May 23.
If you loved Blanchard's debut, The Peacekeeper, like I did, you'll want to pick up The Mother, which similarly imagines a Britain without European colonization and how its women find freedom and meaning in an uncertain world.
*
By Jennifer Neal (@ladygodiva83). Catapult. 336 pages. Out May 23.
This debut centers on a young Black and Indigenous woman who, like her mother, can change the color of her skin. At it's core, this is a story of expectations, relationships and love.
*
By Alyssa Graybeal (@alyssajgraybeal). Red Hen Press. 280 pages. Out May 30.
Alyssa Graybeal has written this frank memoir about her life with the rare genetic connective tissue disorder Ehlers-Danlos syndrome, and its effects on her body, her queerness, her aging, her work, her emotions and her humanity.
*
By Priya Hein (@priyahein). The Indigo Press. 160 pages. Out May 30.
Hailing from Mauritius herself, Priya Hein is perfectly situated to write this novel about its herstory, including the ethnic and class divides, the poverty and the patriarchy. It is a testament to women there who work, resist and remain in service to justice.
*
By Angela Sterritt (Gitanmaax band of the Gitxsan nation) (@AngelaSterritt). Greystone Books. 312 pages. Out May 30.
This debut is part memoir and part investigation of missing and murdered Indigenous women. Award-winning journalist Sterritt is an expert who experienced life on the streets and survived.
---
June
By Ani Kayode. Roxane Gay Books. 304 pages. Out June 6.
Ani Kayode's debut centers two gay men in Nigeria who must face anti-gay legislation and society's homophobia as well as their own challenges and conditioning. This is the first title from Roxane Gay Books, and I wouldn't miss it.
*
By Adorah Nworah (@AdorahNworah). Unnamed Press. Out June 6.
This debut centers a Nigerian woman faced with an arranged marriage and life in Texas, the realities of which don't quite match up to her expectations. Described as a "delicious thriller," I'm intrigued to see what secrets it holds.
*
By Linda Janet Holmes. Mad Creek Books. 216 pages. Out June 7.
Based on hundreds of interviews and oral histories, scholar Linda Janet Holmes has created a singular and significant work examining and celebrating midwifery and birthing traditions from Black women in the US South as well as women across Ghana, Ethiopia and Kenya.
*
By M. Evelina Galang (@HerWildAmSelf). Coffee House Press. 256 pages. Out June 13.
The seventeen stories in this collection explore the complexities, relationships, traditions, identities and experiences of Filipino and Filipino American women.
*
By K Patrick (@k__patrick). Europa Editions. 240 pages. Out June 20.
Described as "sublime and sensual," this debut takes place in an English boarding school and explores privilege, gender roles and forbidden queer love. I can't think of a better way to spend a steamy summer night than with K Patrick and Mrs. S.
*
By Alejandra Oliva (@olivalejandra_). Astra House. 320 pages. Out June 20.
Mexican-American translator and immigrant justice activist Alejandra Oliva is particularly situated to tell the stories of immigration at the US southern border. She has seen the suffering, the space and the struggles of the people firsthand as she interprets their words for them and now, their experiences for us.
*
By Sara Cheikh (@saracheikh). Feral House. 224 pages. Out June 20.
At the beginning of the COVID pandemic, Sara Cheikh traveled home to the Western Sahara desert to visit her family. The book is an account of her harrowing journey and an examination of the people who call this land home. This debut is the first memoir published by a Saharawi woman writer.
*
By Emma Mieko Candon (@emmacandon). Tordotcom. 496 pages. Out June 27.
Okay, I admit it: I've never read mecha fiction. But this is the one I will start with! It's robots and AI and gods and queerness and it sounds right up my alley.
*
By Mihret Sibhat. Viking. 400 pages. Out June 27.
This is the debut novel about a precocious little girl and her family trying to survive against the backdrop of political upheaval in Ethiopia. Themes of religion, loss, community and independence run through this unexpected and singular work.
*
By Sonali Kolhatkar (@sonalikolhatkar). City Lights Books. 228 pages. Out June 27.
Journalist Sonali Kolhatkar knows the importance of storytelling. Even more so, she understands the necessity of controlling the narrative in the media, popular culture and in daily conversations. Now she's written The Book on how to shift the narrative to bend toward justice.
---
July
Written by Erika Kobayashi (@flowertv). Translated by Brian Bergstrom (@asa_no_burei). Astra House. 240 pages. Out July 11.
I loved Erica Kobayashi's Trinity Trinity Trinity, so I am lining up for her collection of strange and reflective connected stories about nuclear power and its effect on Japanese people and society, especially its women.
*
By Gabriela Romero Lacruz (@GRomeroLacruz). Orbit. 432 pages. Out July 25.
Sometimes you just need to be swept away by a great fantasy, especially one that includes ancient gods, dark creatures, magic and a treacherous quest. Based on the history and folklore of South America, this one also speaks to the legacies of colonialism and the dangers of the past.
---
August
By J. Vanessa Lyon (@jv_lyon_words). Roxane Gay Books. 352 pages. Out Aug. 1.
The second book from Roxane Gay's new imprint is this debut centering on several women in Harlem as they make sense of queer love, layered relationships, life's legacies and one inherited brownstone.
*
By Kristal Brent Zook (@kristalzook). Duke University Press. 232 pages. Out Aug. 2.
"Brilliantly capturing the complexities of contemporary [b]lack women's experiences, The Girl in the Yellow Poncho is the most riveting, compelling memoir I have read." —Beverly Guy-Sheftall.
This says it all and I can't wait to read it.
*
Edited by Shreerekha Pillai. University of Illinois Press. 272 pages. Out Aug. 15.
Inspired by the Combahee River collective, this is a collection of essays exploring how neoliberalism, racism and patriarchy have influenced carcerality across the US. It includes contributions from Demita Frazier, Tria Blu Wakpa, Jennifer Musial, Zarinah Agnew, Cassandra D. Little and more.
*
By Jocelyn Simonson (@j_simonson). The New Press. 240 pages. Out Aug. 15.
A former public defender, Jocelyn Simonson makes the argument that the dismantling of mass incarceration must take place through the actions of ordinary people. She delivers plenty of examples and ideas for readers to take, so that we stop depending on others to take the lead.
*
By Megan Kamalei Kakimoto (Japanese/kanaka maoli) (@megankakimoto). Bloomsbury. 272 pages. Out Aug. 29.
The world desperately needs more Hawaiian voices in literature (and everywhere!), so I'm so excited to see this debut collection of stories. Kali Fajardo-Anstine says it "throbs with searing talent," and I believe it.
---
Books to watch out for in September and beyond (all dates are subject to change):
Wednesday's Child: Stories. By Yiyun Li. Farrar, Straus and Giroux. 256 pages. Out Sept. 5.
Landscapes. By Christine Lai. Two Dollar Radio. 230 pages. Out Sept. 12.
50 Years of Ms.: The Best of the Pathfinding Magazine That Ignited a Revolution. Edited by Katherine Spillar. Knopf. 576 pages. Out Sept. 19.
The Museum of Failures. By Thrity Umrigar. Algonquin Books. 356 pages. Out Sept. 26.
Black Grief/White Grievance: The Politics of Loss. By Juliet Hooker. Princeton University Press. Out Oct. 3.
Everything Is Not Enough: A Novel. By Lola Akinmade Akerstrom. William Morrow. 384 pages. Out Oct. 3.
You Get What You Pay For. By Morgan Parker. One World. 288 pages. Out Oct. 3.
The Mountain was Shaken with Pain: Indigenous Americans and the Fight for Survival: An Anthology. Melville House. Out Oct. 10.
Our Secret Society: America's Forgotten Black Power Brokers. By Tanisha Ford. Amistad. 388 pages. Out Oct. 10.
The Knowing: The Enduring Legacy of Residential Schools. By Tanya Talaga. HarperCollins. 320 pages. Out Oct. 24.
Final Words. By 578 Men and Women Executed on Texas Death Row. University Press of Kentucky. Out in Nov.
Touching the Art. By Mattilda Bernstein Sycamore. Soft Skull. Out in Nov.
---
Up next:
U.S. democracy is at a dangerous inflection point—from the demise of abortion rights, to a lack of pay equity and parental leave, to skyrocketing maternal mortality, and attacks on trans health. Left unchecked, these crises will lead to wider gaps in political participation and representation. For 50 years, Ms. has been forging feminist journalism—reporting, rebelling and truth-telling from the front-lines, championing the Equal Rights Amendment, and centering the stories of those most impacted. With all that's at stake for equality, we are redoubling our commitment for the next 50 years. In turn, we need your help, Support Ms. today with a donation—any amount that is meaningful to you. For as little as $5 each month, you'll receive the print magazine along with our e-newsletters, action alerts, and invitations to Ms. Studios events and podcasts. We are grateful for your loyalty and ferocity.