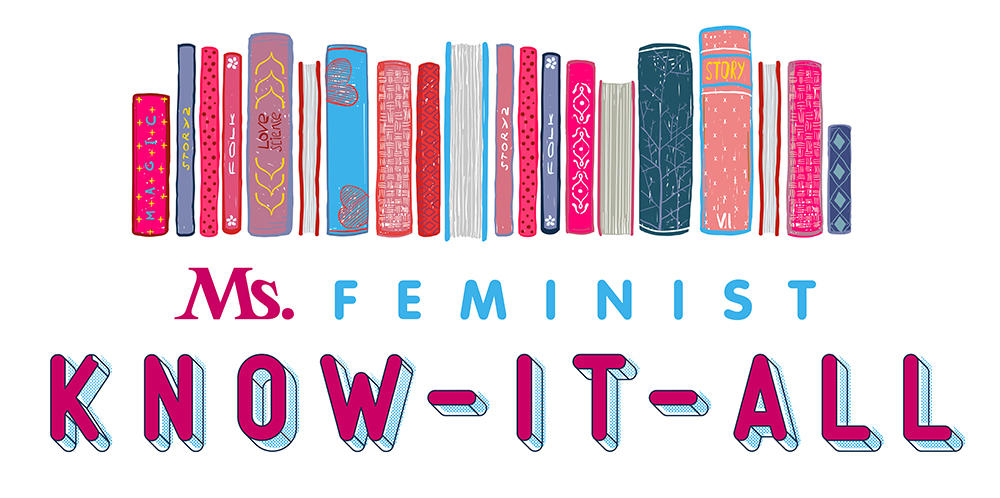 The Feminist Know-It-All: You know her. You can't stand her. Good thing she's not here! Instead, this column by gender and women's studies librarian Karla Strand will amplify stories of the creation, access, use and preservation of knowledge by women and girls around the world; share innovative projects and initiatives that focus on information, literacies, libraries and more; and, of course, talk about all of the books.
---
Each month, I provide Ms. readers with a list of new books being published by writers from historically excluded groups.
The aims of these lists are threefold:
I want to do my part in the disruption of what has been the acceptable "norm" in the book world for far too long—white, cis, heterosexual, male;
I want to amplify indie publishers and amazing works by writers who are women, Black, Indigenous, Latinx, APIA/AAPI, international, queer, trans, nonbinary, disabled, fat, immigrant, Muslim, neurodivergent, sex-positive or of other historically marginalized identities—you know, the rest of us; and
I want to challenge and encourage you all to buy, borrow and read them!
Happy New Year!
I hope you were able to find time to rest and reflect on the year gone by. Good riddance to 2022, I say! 
Here's to a new year and, hopefully, a better one for us all. I wish you a year of peace, collectivity, good health, bountiful joy and, of course, fantastic reading! You can start with these 33 titles that I am most excited about this month. 
Also, be sure to check out my 2023 most anticipated reads list, coming soon!
---
By Deepti Kapoor (@deeptikp). Riverhead Books. 560 pages. Out Jan. 3.
This thrilling debut begins the new year with a bang! Set in India, this saga has family drama, crime and corruption, pleasure and pain. Come for the fireworks, stay for the flame.   
---
By Parini Shroff (@PariniShroff). Ballantine Books. 352 pages. Out Jan. 3.
Geeta is the talk of her Indian village. Did she or didn't she? This book will have you wondering, cackling and gasping with the adventures undertaken and secrets revealed. 
---
By V. V. Ganeshananthan (@V_V_G). Random House. 368 pages. Out Jan. 3.
It's 1981, and a young woman dreams of becoming a doctor at the dawn of a devastating civil war in Sri Lanka. This is a beautifully written story of resilience, loss, human connection and survival amidst the complexities and violence of war. 
---
Edited by Julia S. Jordan-Zachery (@dr_jz). University of Arizona Press. 248 pages. Out Jan. 3.
Black women have been among the hardest hit by COVID-19 and this collection illustrates the devastating ramifications with candor, compassion, heart and hope. By centering the voices, experiences and stories of Black women, Jordan-Zachery ensures they don't go unheard.
---
By Valerie Lambert (Choctaw/Chickasaw). University of Minnesota Press. 344 pages. Out Jan. 3.
This groundbreaking history explores the Bureau of Indian Affairs, beginning with its creation in the War Department and its aim to eliminate Indians, to its eventual takeover by Indian peoples used as a tool to fight settler colonialism, center sovereignty and work towards autonomy.
---
By Tracey Rose Peyton (@TRosePeyton) Ecco. 304 pages. Out Jan. 3.
This harrowing, captivating debut tells the story of a group of enslaved women in Texas who unite to fight a scheme of their plantation owners to force them into childbearing. It is an intimate look into the power of collective resilience, resistance and hope.  
---
By Sharon Tubbs (@SharonTubbs). Indiana University Press. 162 pages. Out Jan. 3.
Journalist Sharon Tubbs didn't know her grandfather long but was there the night he was kidnapped by members of the Ku Klux Klan. In her evocatively told new book, she shares her family's unforgettable story of racism, generational trauma, faith and healing.  
---
By Jessica Johns (Sucker Creek First Nation) (@JessicaStellaaa). Doubleday. 272 pages. Out Jan. 10.
After her sister dies, Mackenzie is riddled with guilt and all-too-real dreams, not to mention the murder of crows that seem to be following her every move. Johns has crafted a magical debut thriller that is both terrifying but also lovingly written.  
---
Edited by Claudia Tate. Haymarket Books. 296 pages. Out Jan. 10.
Out of print for decades, this essential anthology is now available again for a new generation. In it, Claudia Tate interviewed Gayl Jones, Toni Morrison, Maya Angelou, Toni Cade Bambara, Alice Walker, Nikki Giovanni and many more to explore how the work and lives of Black women writers are inextricably connected for themselves and their readers.
---
By Tina Post. NYU Press. 280 pages. Out Jan. 10.
This is a fascinating examination of the use of deadpan in Black lives and cultural production. By withholding emotional expression through necessity or strategy, Black writers, artists and performers disrupt, resist, embody, heal and create.
---
By Oindrila Mukherjee (@oinkness). Tin House. 384 pages. Out Jan. 10.
In this evocative debut, a woman returns to her home in India to find it has drastically changed. Through the perspectives of 10 different characters, Mukherjee masterfully challenges class, tradition, gender roles, modernization, globalization and more.
---
By Lesa Cline-Ransome (@LClineRansome). Holiday House. 304 pages. Out Jan. 10.
Lesa Cline-Ransome's latest YA novel follows the sweet yet tragic interracial friendship of two girls in the Jim Crow South. Challenging and heartbreaking yet nuanced and compassionate, this is a book readers will remember. 
---
By Jamila Minnicks (@Lioness_Tales). Algonquin Books. 336 pages. Out Jan. 10.
In this impressive debut, Minnicks presents a fresh look at the Civil Rights Movement in Alabama. As the all-Black town of New Jessup considers integration, its residents are at odds with how to move forward. The book triumphs in its quest to offer a provocative perspective on racial justice, sovereignty and joy. 
---
By Anastasia C. Curwood (@CurwoodA). University of North Carolina Press. 472 pages. Out Jan. 10.
Curwood has written a definitive and absorbing biography of Shirley Chisholm that details her life and work, as well as her unparalleled influence on feminism, politics and activism. 
---
By Kashana Cauley (@KashanaCauley). Soft Skull. 388 pages. Out Jan. 10.
This darkly funny doomsday satire is what many of us need right now. Offering a nuanced and only half-joking look into survivalism, capitalism, gun ownership and what it takes to survive in today's world, Cauley provides a necessary tension-breaker. 
---
By Aubrey Gordon (@YrFatFriend). Beacon Press. 232 pages. Out Jan. 10.
I often wonder if writer and podcaster Aubrey Cordon gets sick of explaining the necessity of fat justice to people. If she does, she doesn't show it with this essential guide for those seeking information on how to talk about it and get active in the movement. 
---
By Tina Strawn (@Tina_Strawn_Life). Row House Publishing. 268 pages. Out Jan. 17.
Podcaster, writer, liberation activist and self-proclaimed divorce expert Tina Strawn has written this steadfast guide to joy, liberation, pleasure and connection. By centering Black queer people, Strawn uses her own experiences to encourage readers to reflect on their own relationships to freedom, oppression and true liberation.  
---
By Tsitsi Dangarembga (@EfieZethu). Graywolf Press. 128 pages. Out Jan. 17.
This collection of essays by the writer of Nervous Conditions critiques and condemns imperialism in all its forms. With her own experiences as testimony, Dangarembga deftly illustrates how Black feminists might just end the white supremacist cisheteropatriarchy once and for all. 
---
By Marisa Crane (@MCrane_12). Catapult. 352 pages. Out Jan. 17.
This singular debut offers a fresh peek at our dystopian future, one in which wrongdoers carry around extra shadows as reminders and warnings of their misdeeds. As one mom struggles to raise her child after her wife dies, she leans on others to resist the injustices of the surveillance state. 
---
By Chitra Banerjee Divakaruni (@CDivakaruni). William Morrow. 288 pages. Out Jan. 17.
This is the profoundly moving story of three sisters who live through the Partition of India in 1947. Chitra Banerjee Divakaruni offers nuance, compassion, complexity and lyricism to the discussion of this devastating historical event.
---
By Kidada E. Williams (@KidadaEWilliams). Bloomsbury Publishing. 384 pages. Out Jan. 17.
In this extraordinary work of scholarship, Williams offers an insightful reexamination of the Reconstruction period and the African American people who lived through it. By centering formerly enslaved peoples' experiences, Williams challenges previous exclusion, misrepresented understandings and disputed legacies. 
---
Edited by Nana Ekua Brew-Hammond (@NanaEkua). HarperVia. 464 pages. Out Jan. 17.
Writer Nana Ekua Brew-Hammond has brought together diverse and compelling voices in this kaleidoscopic volume. Including stories, poems and essays by writers from across the African continent, the U.S. and Canada, this collection is at once elegant and gritty, formidable and universal. 
---
By Sarah Eagle Heart (Oglála Lakota) (@ms_eagleheart) and Emma Eagle Heart-White (Oglála Lakota). The Feminist Press at CUNY. 296 pages. Out Jan. 17.
These sisters take healing into their own hands with this part-memoir, part-guidebook that's focused on strategies of Indigenous knowledge, collectivism and reciprocity.
---
By Joel Cabrita (@JoelMCabrita). Ohio University Press. 344 pages. Out Jan. 17.
Regina Gelana Twala was a Black South African feminist, writer and researcher who founded the Swaziland Progressive Party. Despite these and other outstanding accomplishments, Twala has been largely excluded from the historical record until now. Not only a thorough biography of Twala, this book is also an interesting examination of whose stories are told, and by whom.   
---
By Meghan Ashburn (@NotAnAutismMom) and Jules Edwards (@AutisticTyping). Jessica Kingsley Publishing. 256 pages. Out Jan. 19.
In this compelling volume, Ashburn and Edwards examine the tension that often prevents autistic advocates and parents of autistic children from successful collaboration. Drawing on their own relationship, the authors offer insights into what worked, what didn't and how they've come to work together for disability justice.
---
By Kathryn Ma (@Kathryn_E_Ma). Counterpoint. 304 pages. Out Jan. 24.
To counter his unfortunate circumstances in China, Shelley heads to San Francisco in hopes of finding his own American Dream. Through witty satire and sweet storytelling, Kathryn Ma offers readers a fresh perspective on immigration, family, expectations and idealism.
---
By Iliana Regan (@IlianaRegan_and_Co). Agate Publishing. 344 pages. Out Jan. 24.
If you enjoyed Iliana Regan's memoir Burn the Place, you will love her compelling new memoir in which she explores how ancestry and nature interacted to shape her life, from foraging and her culinary career to her gender identity and relationships. 
---
By Sarah Ladipo Manyika. Footnote Press. 288 pages. Out Jan. 31.
This is a unique and enlightening compilation of conversations between the author and some of the most well-known thinkers of our time, including Michelle Obama, Claudia Rankine and Toni Morrison, among others. But the richest insights come not from some well-known intellectual but from Willard Harris, a 100-year-old friend of the author who is the epitome of grace, strength and living life to the fullest.
---
By Delia Cai (@Delia_Cai). Ballantine Books. 288 pages. Out Jan. 31.
Another fantastic debut this month, Central Places tackles parental expectations, the past and living one's truth in the present through the lens of the daughter of Chinese immigrant parents. This one will have you reflecting on themes of interracial relationships, growing up and moving on.
---
By Toshio Meronek (@TMeronek) and Miss Major Griffin-Gracy (@ImMissMajor). Verso. 176 pages. Out Jan. 31.
In this slim but expansive volume, the legendary Miss Major reflects on her life, her activism and her vision for the future. There's not much more to say except that It's Miss Major, and it's this month's #RequiredReading. 
---
By Eleanor Shearer (@EleanorBShearer). Berkeley. 336 pages. Out Jan. 31.
This compelling debut centers a mother's desperate journey across the Caribbean to find her children against the backdrop of the 1834 Emancipation Act. Shearer presents a heartrending story about a far too little-known time in history. 
---
By Annalee Newitz (@Annaleen). Tor Books. 352 pages. Out Jan. 31.
If you've not yet had the occasion to read Annalee Newitz, start your year off right with their latest magnificently fun sci-fi space opera. The Terraformers explores the future effects of climate change, personhood, scientific advances and more with imagination, intelligence and optimism. 
---
Written by Geetanjali Shree. Translated by Daisy Rockwell (@shreedaisy). HarperVia. 624 pages. Out Jan. 31. 
The first book written in any Indian language to win the International Booker Prize, Tomb of Sand is a groundbreaking novel about an 80-year-old woman who struggles to find meaning after her husband's death. Playful, magical and magnetic, this monumental novel speaks to themes of love, grief, family ties, feminism, borders, spirituality, climate change and more. 
Up next:
U.S. democracy is at a dangerous inflection point—from the demise of abortion rights, to a lack of pay equity and parental leave, to skyrocketing maternal mortality, and attacks on trans health. Left unchecked, these crises will lead to wider gaps in political participation and representation. For 50 years, Ms. has been forging feminist journalism—reporting, rebelling and truth-telling from the front-lines, championing the Equal Rights Amendment, and centering the stories of those most impacted. With all that's at stake for equality, we are redoubling our commitment for the next 50 years. In turn, we need your help, Support Ms. today with a donation—any amount that is meaningful to you. For as little as $5 each month, you'll receive the print magazine along with our e-newsletters, action alerts, and invitations to Ms. Studios events and podcasts. We are grateful for your loyalty and ferocity.