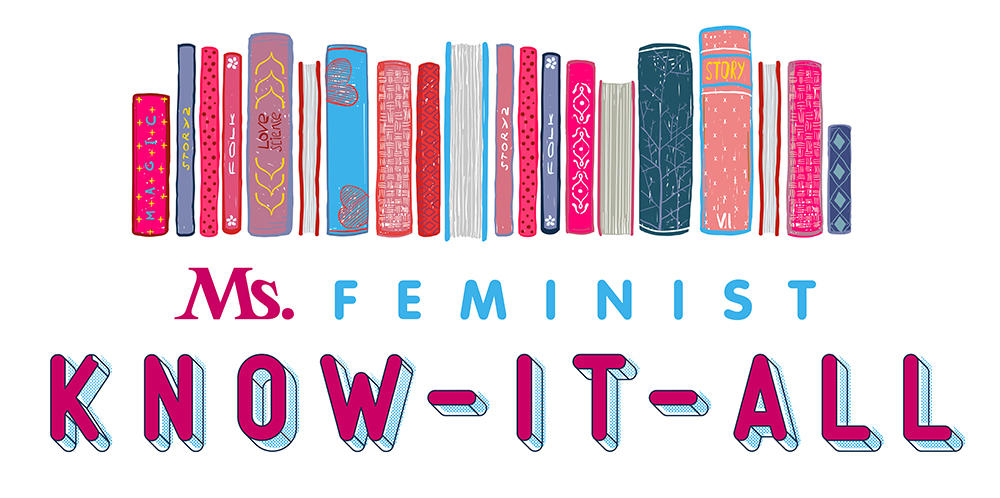 The Feminist Know-It-All: You know her. You can't stand her. Good thing she's not here! Instead, this column by gender and women's studies librarian Karla Strand will amplify stories of the creation, access, use and preservation of knowledge by women and girls around the world; share innovative projects and initiatives that focus on information, literacies, libraries and more; and, of course, talk about all of the books.
---
Each month, I provide Ms. readers with a list of new books being published by writers from historically excluded groups.
The aims of these lists are threefold:
I want to do my part in the disruption of what has been the acceptable "norm" in the book world for far too long—white, cis, heterosexual, male;
I want to amplify indie publishers and amazing works by writers who are women, Black, Indigenous, Latinx, APIA/AAPI, international, queer, trans, nonbinary, disabled, fat, immigrant, Muslim, neurodivergent, sex-positive or of other historically marginalized identities—you know, the rest of us; and
I want to challenge and encourage you all to buy, borrow and read them!
As we enter into cooler weather here in the U.S. Midwest, it's not only a time of reflection and shedding of old skins—it's clearly the beginning of curling-up-with-good-books-and-hot-brews season! (And yes, that's a thing. I just invented it.)
So as you settle into eclipse season and any special days you may celebrate, keep an eye on your favorite reading chair and insist upon using it regularly, with one of these 31 titles or a favorite of your own.
---
Written by Robin Wall Kimmerer and adapted by Monique Gray Smith (Cree, Lakota, Scottish) (@ltldrum). Zest Books. 304 pages. Out Nov. 1.
You love Braiding Sweetgrass, and now you can gift your young adult friends with a special copy just for them! Complete with lovely drawings and photos, this volume contains all of the wisdom of the original.
---
By Alma Zaragoza-Petty (@thedoczp). Broadleaf Books. 195 pages. Out Nov. 1.
Mexican American activist and scholar Alma Zaragoza-Petty (and all-around badass) uses her own experiences as a Brown woman immigrant to help others face their pain, their pasts, and embrace their own inner badass and the healing that can come with it.
---
By Diane Glancy. Broadleaf Books. 214 pages. Out Nov. 1.
With her signature poetic lyricism, Glancy describes how the road is her home, in its ever-changing, challenging and satisfying glory. The road allows her to examine the land and its history, spirituality and traditions, as well as her own.
---
Written by Baek Sehee and translated by Anton Hur (@AntonHur). Bloomsbury Publishing. 208 pages. Out Nov. 1.
A bestseller in South Korea (and recommended by BTS!), this volume candidly recounts the author's experiences with, and reflections on, therapy for her mild depression. If you've ever felt exhausted and anxious by performing well-being, this is a book for you.
---
By Ann Shen (@anndanger). Chronicle Books. 208 pages. Out Nov. 1.
Ann Shen has become known for her vibrant illustrations and doesn't disappoint with this latest volume focused on women trailblazers of color. Featuring profiles on Dolores Huerta, Charlotta Bass, Maria Tallchief, Sylvia Rivera, Victoria Draves, Yayoi Kusama and more, it will make a beautiful gift this holiday season.
---
By Onyi Nwabineli (@OnyiWrites). Graydon House. 352 pages. Out Nov. 1.
This is a powerfully realized debut story of a Nigerian woman whose husband unexpectedly dies by suicide. Reflective and heartrending, Someday, Maybe is also surprisingly witty and compellingly relatable.
---
By Caroline Cook (@caroline_e_cook). Atmosphere Press. 290 pages. Out Nov. 1.
Based on the author's time at Dartmouth and inspired by the life of Dr. Hannah Croasdale, Caroline Cook's historical fiction debut explores the challenges and misogyny women encounter in academia, despite their achievements, grit and grind.
---
By Erika T. Wurth (Apache/Chickasaw/Cherokee) (@ErikaTWorth). Flatiron Books. 320 pages. Out Nov. 1.
This is a debut ghost story that will knock your socks off. When Kari James receives her absent mother's bracelet from a cousin, she swears it's haunted and goes on a mission to solve the mystery of why her mother left her all those years ago.
---
By N. K. Jemisin (@NKJemisin). Orbit. 368 pages. Out Nov. 1.
If you love speculative fiction, you've probably been waiting for the second book of N.K. Jemisin's Great Cities duology like I have. Magical and masterful, this volume is a spectacular conclusion to The City We Became.
---
Edited by Alisa Bierria (@abierria), Brooke Lober (@brookespeeking) and Jakeya Caruthers. Haymarket Books. 328 pages. Out Nov. 8.
Here's the companion to Abolition Feminisms Vol. 1, which was released in August. In similar groundbreaking fashion, contributors continue to interrogate, dismantle and rebuild the state into our most radical abolitionist dream come true.
---
Written by Zi Shu Li. Translated by YZ Chin. The Feminist Press at CUNY. 360 pages. Out Nov. 8.
A singularly unique novel, Zi Shu Li's debut is now available for the first time in English. Following three storylines of trauma, upheaval and history, this Southeast Asian epic is rife with detail, tradition and heart.
---
By Ausma Zehanat Khan (@AusmaZehanat). Minotaur Books. 384 pages. Out Nov. 8.
Inaya Rahman is leading the fiercest new detective series on the block. In this first book, she confronts an epidemic of missing immigrant women in Blackwater Falls, Colo., and enlists the help of two women who understand the terrors of racism and police corruption.
---
By Tracy Deonn (@TracyDeonn). Simon & Schuster BYR. 576 pages. Out Nov. 8.
The second book in the Legendborn Cycle is just as powerful and deliciously unpredictable as the first. It's got love, loss, thrills and chills, all with a dose of supernatural, bloodcurdling spells to ignite your witchy fires.
---
By Priyanka Kumar. Milkweed Editions. 296 pages. Out Nov. 8.
As an amateur birdwatcher and professional bird lover, I appreciate the tenderness and honor with which Priyanka Kumar reflects on the importance of birds in her life. They mark seasons and stages, bear the wounds of climate change and still persevere with power and grace.
---
By Priscilla Long (@PriscillaLong). Coffeetown Press. 220 pages. Out Nov. 8.
As I age, the reflections and wisdom of sages become ever more important to me. Just in time, writer and teacher Priscilla Long has written this lovely volume about the creativity, productivity, joy and genius of elder women.
---
By C. L. Polk (@CLPolk). Tordotcom. 144 pages. Out Nov. 8.
With queer romance, urban edge, twisty mystery and the devil himself at your heels, this is spooky, supernatural noir at its finest.
---
By adrienne maree brown (@adriennemaree). AK Press. 248 pages. Out Nov. 8.
I ask you: What can't adrienne maree brown do? In her debut collection of 70 (!) poems and stories, brown continues to demonstrate her interrelationship with Mother Earth, her adoration of the ancestral heavens and her uncanny ability to connect it all in a witchy wonderland of liberation.
---
By Rabia Chaudry (@RabiaSquared). Algonquin Books. 352 pages. Out Nov. 8.
Rabia Chaudry puts her love and laments of family and food on full display in her candid and compelling memoir. This is a book for all of us who have felt fat, been fat or loved a fat person, while also loving food and dealing with the familial and societal pressures of body image.
---
By Shanita Hubbard (@MsShanitaRenee). Legacy Lit. 192 pages. Out Nov. 8.
From Mikki Kendall to Gabrielle Union, women are raving about this striking debut. They're calling it "cathartic," "beautiful," "insightful" and "a powerful must-read book for Black women."
---
By Janet Garcia-Hallett (@JGarciaHallett). University of California Press. 248 pages. Out Nov. 8.
In this compelling work, Janet Garcia-Hallett explores both sides of the same coin for formerly incarcerated mothers of color: invisibility and hypervisibility. Through interviews and fastidious research, Garcia-Hallett shines a light on an essential and long-neglected topic.
---
Edited by Sheree Renée Thomas (@BlackPotMojo), Oghenechovwe Donald Ekpeki (@PenPrince_) and Zelda Knight (@AuthorZKnight). Tordotcom. 528 pages. Out Nov. 15.
In addition to the other speculative Afrofuturistic titles coming out this month, be sure to check out this collection of 32 original stories from Africa and the African diaspora. At over 500 pages, you'll certainly find some new classics of modern speculative fiction.
---
By Victoria Garza (@GarzaMail). Jackleg Press. 176 pages. Out Nov. 15.
I love books like this. Books that come from out of the blue and surprise, tenderize and mesmerize me. This contemplative and compelling debut memoir recounts the author's experience of loss, guilt, origins, faith and healing.
---
By Susan Raffo (@SusanRaffo). AK Press. 264 pages. Out Nov. 15.
Bodyworker Susan Raffo has written this latest volume in the Emergent Strategy series focused on healing embodied trauma and violence. Those involved in social justice work know the toll it can take on the body and the soul; now learn how to heal the self while healing the world.
---
By Katie Zhao (@KTZhaoAuthor). Bloomsbury YA. 352 pages. Out Nov. 15.
This fast-paced YA rivals-to-romance has mystery, suspense and danger wrapped up in frameworks of inclusion and social justice. What more could you ask for?
---
By Joshua Whitehead (Oji-nêhiyaw member of Peguis First Nation (Treaty 1)) (@JWhitehead204). University of Minnesota Press. 232 pages. Out Nov. 15.
Whitehead's spectacular nonfiction debut is a poignant examination of body, land, history, language and the complex intersections between them all that affect us all.
---
Edited by Sonja Eismann, Maya Schöningh and Ingo Schöningh. Drawn & Quarterly. 264 pages. Out Nov. 15.
I'm excited to see the outcome of an open call across 42 countries to spotlight feminist movements and advocacies for Indigenous rebellions in the Global South, a project with the Goethe-Institut Indonesien in Jakarta.
---
By Will Betke-Brunswick (@WBetkeBrunswick). Tin House Books. 168 pages. Out Nov. 15.
In this touching and humorous debut graphic memoir, Will Betke-Brunswick explores how loss and love exist together in a nuanced and delicate relationship. The complexities of family grief that many of us have experienced are treated with tremendous care and beauty.
---
By Mary-Alice Daniel (@MaryAlicePoetry). Ecco. 272 pages. Out Nov. 29.
Poet Mary-Alice Daniel has written a moving and kaleidoscopic debut memoir about her life in Nigeria, England and the United States. Daniel is a masterful storyteller and allows readers into her family, faith, traditions and migrations.
---
By Deeba Zargarpur (@DeebaZargarpur). Farrar, Straus and Giroux BYR. 320 pages. Out Nov. 29.
Exploring immigration and intergenerational trauma through an Aghani-Uzbeki lens, this suspenseful YA debut will reach readers of all backgrounds who have faced family secrets, ghosts of the past and uncertainties of the future.
---
By Osa Atoe (@PotteryByOsa). Soft Skull. 368 pages. Out Nov. 29.
By 2006, Osa Atoe was sick of being the only Black kid at punk shows and she created Shotgun Seamstress fanzine as a remedy and tribute to the Black punk experience. This collection includes all eight issues of reviews, essays, biographical sketches, interviews and more.   
---
By Jas Hammonds (@JasHammonds). Roaring Brook Press. 384 pages. Out Nov. 29.
This young adult debut will shock you, stir you and swoon you. As three girls form deep relationships, they face racism, violence and secrets. Will they ever find peace?
U.S. democracy is at a dangerous inflection point—from the demise of abortion rights, to a lack of pay equity and parental leave, to skyrocketing maternal mortality, and attacks on trans health. Left unchecked, these crises will lead to wider gaps in political participation and representation. For 50 years, Ms. has been forging feminist journalism—reporting, rebelling and truth-telling from the front-lines, championing the Equal Rights Amendment, and centering the stories of those most impacted. With all that's at stake for equality, we are redoubling our commitment for the next 50 years. In turn, we need your help, Support Ms. today with a donation—any amount that is meaningful to you. For as little as $5 each month, you'll receive the print magazine along with our e-newsletters, action alerts, and invitations to Ms. Studios events and podcasts. We are grateful for your loyalty and ferocity.
Up next: