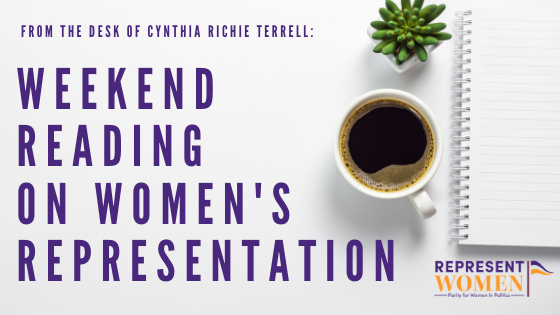 Weekend Reading on Women's Representation is a compilation of stories about women's representation in politics, on boards, in sports and entertainment, in judicial offices and in the private sector in the U.S. and around the world—with a little gardening and goodwill mixed in for refreshment!
---
Happy Black History Month! This month and every month, RepresentWomen works to uplift Black women leaders in every sphere. Black women and women of color are severely underrepresented, not just in politics but in other leadership positions. We have data on the racial breakdown, along with other demographics, for women in elected positions. The systems reforms we advance, like ranked-choice voting, are pivotal solutions because they help to increase representation for women of color—as seen by our Bay Area Case Study.
Meet the Women Trying to Avoid a Spending Train Wreck in Congress
Great story. Strong women. Yes. https://t.co/Knmo49O3Zp

— Amy Klobuchar (@amyklobuchar) February 2, 2023
Gender balance in office and leadership is not just about fairness. Electing more women to government will strengthen our democracy by reviving bipartisanship and collaboration and improving policy outcomes. Research from the Center for Effective Lawmaking shows that, in comparison to their male counterparts, women are more likely to strive to build coalitions and reach across party lines to get things done. 
For the first time ever, the leaders of the House and Senate Appropriations Committees are all women, as is the top White House budget official. Emily Cochrane of the New York Times reports:
The top appropriators are veterans of such negotiations. Etched alongside Ms. Murray's name is that of Senator Susan Collins of Maine, the top Republican on the panel. In the House, Representative Kay Granger, Republican of Texas, is the newly installed chairwoman of the Appropriations Committee, and Representative Rosa DeLauro of Connecticut is the top Democrat. At the White House, the top budget official is Shalanda Young, the first Black woman to head the Office of Management and Budget.

…as Republicans and Democrats position themselves for a major clash over funding in the coming months, they say they are determined to defy what they acknowledge are steep odds and bring some sanity and orderliness to the spending debate.

"We do bring different experiences, and in my experience, are often more collaborative than our male counterparts," Ms. Collins said. The hope, she added, was "that we will work together as a team, knowing that it is going to be difficult. But I think that new leadership and sometimes, ironically, a divided Congress politically can plant the seeds for good compromise."

…

"We often think of our families in our communities," said Ms. Murray, who also became the first woman to serve as Senate president pro tempore this year, a position that puts her third in line to the presidency. "I see the appropriations as an opportunity for women to really work on making sure their country is OK. Are we investing adequately in those places that help ensure that our grandkids have those communities?"
---
Experts Uncover More Stories About Connecticut Suffragists of Color
The Connecticut Historical Society took the initiative to research women of color in the suffrage movement. Through their research, they were also able to highlight specific women who were truly trailblazers. They fought against discrimination, for equality, and truly believed in the value of the vote and full citizenship. The women include Clara Burr, Rebecca Tanner, Elizabeth Jeter Greene and Lena Knighton. RepresentWomen also highlights the history of the 19th amendment and the suffrage movements that have led to this change.
Over 100 years after American women secured the right to vote, researchers are bringing to light the stories of over a dozen women of color who tirelessly championed the 19th amendment in Connecticut.

Women of color started organizing before the famous 1848 Seneca Falls Convention and the activists, especially Indigenous women, often inspired white suffragists. Excluded from white suffragist organizations, many women of color created their own leagues such as the National Association of Colored Women's Clubs, which was formed in 1896.

At the end of the 19th century, a great migration of people moving from the Jim Crow south brought women who would become prominent suffragettes in Connecticut. The state became a hub for the national suffrage movement due to its location and advanced transportation and communication infrastructure.
---
Jasmine Brown Exposes The Medical World's Struggle for Diversity in New Book
Twice As Hard, a new book written by medical student Jasmine Brown, tells stories that have been untold for far too long. In the book, Brown uncovers the unique struggles Black women have historically faced when pursuing careers in medicine.
Brown cites structural barriers as reasons why Black women are underrepresented in the medical field. This echoes RepresentWomen's argument about unequal representation. RepresentWomen identifies barriers women face and proposes solutions on our website.
There are many social and structural barriers that were put in place far in the past that still persist today.

Penn, as a predominantly white institution, probably has one of the better representations of Black women. I know of some schools that have close to 200 students and they have maybe one Black student, maybe two.

The national representation of Black physicians is still severely represented. Around 5% of all physicians are Black and about half are women.
---
Empowering Black Women Leaders with Harvard Kennedy School Training Program
The Power, Innovation and Leadership executive education program at the Center for Public Leadership at the @Kennedy_School was designed for people who are working to empower Black women and girls in the South. https://t.co/w2LtOpWrvz

— 19thnews (@19thnews) January 31, 2023
LaTosha Brown, cofounder of Black Voters Matter, has launched an exciting initiative called the Power, Innovation and Leadership training program at the Harvard Kennedy School's Center for Public Leadership. This piece in The 19th by Rebekah Barber shows exactly how when we put women in positions of power, they empower and lift other women up, too:
Brown deeply believes that "if you change the world for a Black girl, you will literally change the world. When they're in environments to flourish and thrive, then the whole society will be in an environment to flourish and thrive." She handpicked the inaugural cohort based upon their demonstrated commitment to their communities, and especially Black women and girls.

The three-year hybrid program meets once a week and officially began this month. Among the participants are attorneys, formerly incarcerated women, reproductive justice advocates, social venture capitalists and those who are directly working to enact policy change. Brown was intentional about including women from diverse sectors because one of the main goals of the program is for Black women in the South to have expanded access not only to institutional knowledge, but to peers. It aims to allow the women to think more critically about power, innovation and leadership via scholars and one another…

"If we're going to build and expand on the current moment of this democracy for Black women, it means investing in Black women's leadership. That includes elected leaders, civic leaders, policy leaders," she said. Brown's program is a chance to invest in Black women "who will go to their communities and continue to push and innovate their own leadership," she said. 
---
REAL House Act Would Expand House of Representatives by 150
This week, Rep. Earl Blumenauer (D-Ore.) introduced legislation that would expand the number of seats in the House of Representatives by 150.
Support for House expansion has been growing in recent years, as the average number of people represented by a single representative has grown to 800,000. The number of seats in the House was capped at 435 in 1929, but the U.S. population has tripled since the last time seats were added. 
"This growing imbalance makes it more difficult for members to be responsive to the will of the people, and voters are more likely to sit out elections when their voice and input are not fully represented in government," Representative Blumenauer said in his statement.
We know that women are far more likely to win open seats than when running as challengers so this would lead to a big increase in reflective representation.
---
FairVote, Black Voters Matter and RepresentWomen Teams Meet in Atlanta
My husband Rob Richie and I had the opportunity to meet with Black Voters Matter's co-founder Cliff Albright, attorney and legal director April Albright, and other BVM staff while in Georgia last week. We discussed the legacy of democratic idealist Lani Guinier and strategies like ranked-choice voting that will help to fulfill the promise of American democracy.
---
The Power of Knitting
I just finished this sweater and hat set for my great-niece Clara so I was glad to see this column in The New York Times by Peggy Orenstein about the power of knitting:
The French had their "tricoteuses," which translates to women knitters (they have a word for that!), particularly those who, during the Reign of Terror, sat before the guillotines bearing grim witness to public executions. You may recall Madame Defarge from "A Tale of Two Cities," whose stitches formed a Reaper's roster of the condemned. Her real-life counterparts were equally complex, a mix of feminist hero and vengeful villain. Many (presumably savoring l'ironie) were said to knit liberty caps as the heads rolled: those red, conical hats with the point folded forward that represented freedom from tyranny. Marianne, a national symbol of France, is often depicted in a liberty cap. So, for reasons I cannot determine, is Papa Smurf.

Sojourner Truth offered a different twist on yarn and femininity during the Civil War, posing for photographs with her knitting, a nod to her belief that education and industry were the key to her community's advancement. Decades later, when troops in World War I were dying by the tens of thousands from an epidemic of trench foot, caused by persistently wet toes, it was knitters to the rescue. The best defense was to change your socks — a lot — but factories of the time couldn't handle the load, so home crafters produced them. I'm not saying we won that war because of women's knitting, but I'm not sure we would've won without it.

Another activist first lady, Eleanor Roosevelt, was rarely without her knitting and began the Knit for Defense campaign during World War II. Similarly to Old Mom Rinker, female spies of the time used knitting as cover, one even parachuting behind enemy lines, then using her needles to transport secret code…

So yes, knitting can be meditative, it can be relaxing, it may reduce vulnerability to dementia, anxiety and high blood pressure. It also results (if you're lucky) in some pretty nice stuff. And maybe the demographic does still skew toward the older and the female. But why not embrace that?
---
RepresentWomen board member and Running Start CEO Susannah Wellford asked me to teach her class at American University this week—though truth be told, I learned a lot from them! Susannah and I then enjoyed chatting with various politicos at Politico's welcome reception for members of the 118th Congress.
---
Register for the Democracy Solutions Summit in March
Registration is now open for RepresentWomen's virtual Democracy Solutions Summit that will feature an incredible lineup of women who will speak about topics related to Fair Access, Fair Elections, and Fair Representation! Sign up here to join the conversation on March 7th, 8th, and 9th!
---
Happy Birthday, Rosa Parks
This Saturday is Rosa Parks' birthday! She was truly a bold changemaker and is an inspiration to this day. RepresentWomen is grateful to her, as her legacy reminds us all to always fight for what is right.
Up next:
U.S. democracy is at a dangerous inflection point—from the demise of abortion rights, to a lack of pay equity and parental leave, to skyrocketing maternal mortality, and attacks on trans health. Left unchecked, these crises will lead to wider gaps in political participation and representation. For 50 years, Ms. has been forging feminist journalism—reporting, rebelling and truth-telling from the front-lines, championing the Equal Rights Amendment, and centering the stories of those most impacted. With all that's at stake for equality, we are redoubling our commitment for the next 50 years. In turn, we need your help, Support Ms. today with a donation—any amount that is meaningful to you. For as little as $5 each month, you'll receive the print magazine along with our e-newsletters, action alerts, and invitations to Ms. Studios events and podcasts. We are grateful for your loyalty and ferocity.