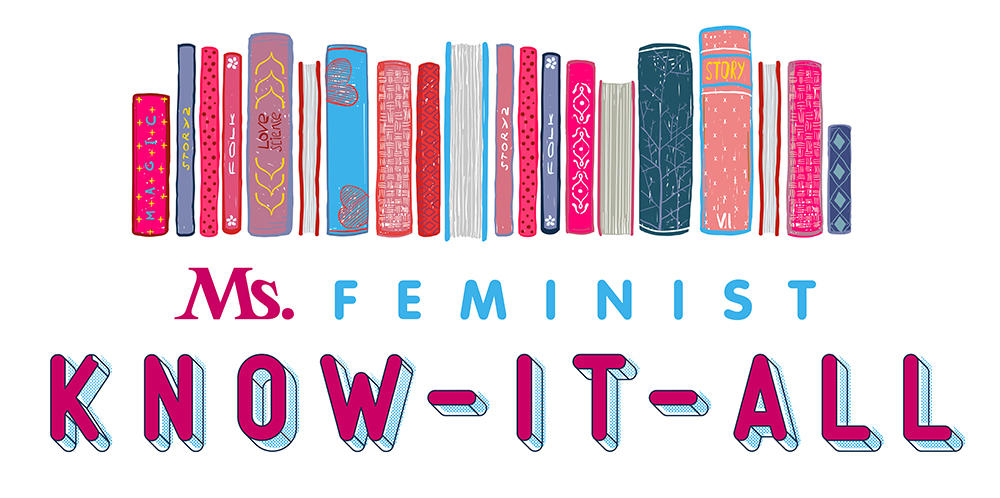 The Feminist Know-It-All: You know her. You can't stand her. Good thing she's not here! Instead, this column by gender and women's studies librarian Karla Strand will amplify stories of the creation, access, use and preservation of knowledge by women and girls around the world; share innovative projects and initiatives that focus on information, literacies, libraries and more; and, of course, talk about all of the books.
---
Each month, I provide Ms. readers with a list of new books being published by writers from historically excluded groups.
The aims of these lists are threefold:
I want to do my part in the disruption of what has been the acceptable "norm" in the book world for far too long—white, cis, heterosexual, male;
I want to amplify indie publishers and amazing works by writers who are women, Black, Indigenous, Latinx, APIA/AAPI, international, queer, trans, nonbinary, disabled, fat, immigrant, Muslim, neurodivergent, sex-positive or of other historically marginalized identities—you know, the rest of us; and
I want to challenge and encourage you all to buy, borrow and read them!
And so it is summer!
Are you enjoying it? Are you on a beach with a cocktail in one hand and a book in the other? I wish I was!
But alas, I am in Wisconsin—which is actually in the midst of a warm spell—in my office finishing up this list. Luckily, I will have time later to grab my favorite beverage (good ol' G&T) and relax on the deck.
I wanted to take this time to remind you that you can now pre-order 50 Years of Ms.: The Best of the Pathfinding Magazine that Ignited a Revolution! This celebration of the groundbreaking feminist magazine will go on sale Sept. 19 from Knopf, but pre-order yours and get it sent to your door. Love the magazine? Buy the book!
Until then, check out any (or all!) of these 30 June releases which are sure to enthrall, enlighten, educate and excite you—wherever you happen to be.
---
By Qin Sun Stubis (@QinStubis). Guernica Editions. 366 pages. Out June 1.
Qin Sun Stubis has written this sweeping creative memoir of her family's history in Shanghai from World War II through the Cultural Revolution. Reading like a novel, it is engaging, endearing, heartbreaking and hopeful.
*
By Ani Kayode Somtochukwu (@ani_kayode). Roxane Gay Books. 304 pages. Out June 6.
Ani Kayode's absorbing debut centers two gay men in Nigeria who must face anti-gay legislation and society's homophobia as well as their own challenges and conditioning. This is the first title from Roxane Gay Books, and you don't want to miss it.
*
By Kathleen Grissom. Atria Books. 368 pages. Out June 6.
This is the compelling story of a Native woman in the late-1800s who struggles to balance her loyalty to her Crow tradition and family and her love and dedication to her white trader husband. Based on a true story, the author worked closely with descendants to render a gripping tale that illustrates the strength and integrity of Crow Mary.
*
By Nilima Rao. Soho Crime. 288 pages. Out June 6.
Nilima Rao has written a magnetic and atmospheric mystery debut set against the backdrop of 1914 Fiji. Rao expertly layers themes of classism and racism with an immersive storyline of kidnappings and colonialism.
*
By Mona Alvarado Frazier (@AlvaradoFrazier). SparkPress. 376 pages. Out June 6.
As someone who has spent decades working with incarcerated youth, Mona Alvarado Frazier is an expert and it's clear she poured her knowledge—and her heart—into this story. In it, an undocumented teen mom who is accused of killing her husband learns to make meaning and hope in the despair of a prison cell.
*
By Robyn Moreno (@RobynNMoreno). Hachette Go. 288 pages. Out June 6.
After spending years as a badass boss and overwhelmed working mom, Robyn Moreno knew something had to give. In Rooted, she candidly shares her spiritual journey learning curanderismo, or traditional Mexican healing practices. This is an inspirational and magical story of ancestry, authenticity and alchemy.
*
By Adorah Nworah (@AdorahNworah). Unnamed Press. Out June 6.
This debut centers a Nigerian woman faced with an arranged marriage and life in Texas, the realities of which don't quite match up to her expectations. Described as a "delicious thriller," read it to uncover what secrets it holds.
*
By Magogodi oaMphela Makhene (@magogodimakhene). W. W. Norton & Company. 224 pages. Out June 6.
The relationship I've been lucky enough to have with South Africa is one of my most cherished. This magnificent debut collection of stories set in Soweto centers Black South Africans and township life through apartheid and beyond. Undiluted, challenging and defiant, this is liberating writing.
*
By Monica Chenault-Kilgore (@TheChenaultGrp). Graydon House. 368 pages. Out June 6.
Monica Chenault-Kilgore's compelling debut novel features Birdie, a young married woman with two children whose husband mysteriously disappears. Left on her own, she struggles to keep her family together in this powerful story of love, jazz, courage and home.
*
By Krista Burton. Simon & Schuster. 320 pages. Out June 6.
As someone who came up (and out) in the early 1990s, I have watched the decline of lesbian bars with nostalgia and distress. Krista Burton, who you may know from the blog Effing Dykes, set out on a trip to visit the last 20—that's right, only 20—lesbian bars left in the U.S. What she created is hilarious, heartfelt and hopeful (and includes my hometown dyke bar, Walker's Pint!).
*
By Pim Wangtechawat (@PimsupaW). Blackstone Publishing. 272 pages. Out June 6.
This debut will have you thinking about borders in a whole new way as a Chinese-British family of time travelers search for love, connection and belonging. Read this beautifully written tale before the Netflix series comes out!
*
By Cassandra Newbould (@CassNWrites). Peachtree Teen. 320 pages. Out June 6.
To say Cassandra Newbould has written an emotional epistolary novel here is an understatement. It's also vulnerable, heartwarming, intimate and poignant. Featuring important representation, this fresh coming-of-age story takes on themes of queerness, grief, addiction, body image and friendship.
*
By Linda Janet Holmes. Mad Creek Books. 216 pages. Out June 7.
Based on hundreds of interviews and oral histories, scholar Linda Janet Holmes has created a singular and significant work examining and celebrating midwifery and birthing traditions from Black women in the U.S. South as well as women across Ghana, Ethiopia and Kenya.
*
By Rachel L. Swarns (@RachelSwarns). Random House. 352 pages. Out June 13.
There are so many stories of people who have built this country and its institutions that have gone untold, unheard and unheralded. So when books like this one come along, I sing its praises, especially when the research and writing are this damn good.
*
By Tiya Miles (@TiyaMilesTAM). Random House. 320 pages. Out June 13.
If you're a fan of Tiya Miles like I am, you'll be as excited to learn of the new edition of her extraordinary debut novel, The Cherokee Rose. Based on a true story, Miles tells of three women and their intersecting histories with a Georgia plantation. Includes a new introduction and discussion guide.
*
By Alexis De Veaux (@AlexisDeVeaux). AK Press. 140 pages. Out June 13.
And now for something completely different… and wonderful. Alexis De Veaux shines in all her feminist, futuristic, fluid "afiction" queerness and examines human(e)ness as only she can.
*
By Peace Adzo Medie (@PeaceMedie). Algonquin Books. 352 pages. Out June 13.
Medie's first novel, His Only Wife, was a knockout and her sophomore venture doesn't disappoint. Focused on friendship, secrets, courage and truth, Nightbloom addresses complex issues with nuance, candor and tenderness.
*
By M. Evelina Galang (@HerWildAmSelf). Coffee House Press. 256 pages. Out June 13.
The 17 stories in this collection explore the complexities, relationships, traditions, identities and experiences of Filipino and Filipino American women. It's beautifully constructed and thoughtfully presented.
*
By K Patrick (@k__patrick). Europa Editions. 240 pages. Out June 20.
Described as "sublime and sensual," this debut takes place in an English boarding school and explores privilege, gender roles and forbidden queer love. I can't think of a better way to spend a steamy summer night than with K Patrick and Mrs. S.
*
By Alejandra Oliva (@olivalejandra_). Astra House. 320 pages. Out June 20.
Mexican-American translator and immigrant justice activist Alejandra Oliva is particularly situated to tell the stories of immigration at the U.S. southern border. She has seen the suffering, the space and the struggles of the people firsthand as she interprets their words for them and now, their experiences for us.
*
By Sara Cheikh (@saracheikh). Feral House. 224 pages. Out June 20.
At the beginning of the COVID pandemic, Sara Cheikh traveled home to the Western Sahara desert to visit her family. The book is an account of her harrowing journey and an examination of the people who call this land home. This evocative debut is the first memoir published by a Saharawi woman writer.
*
By Tracy White (@tracedcomics). Street Noise Books. 168 pages. Out June 20.
This is a powerful graphic novel focused on five teens who have desperately crossed the border into the U.S. to better their own lives and those of their families. The author's proceeds go to organizations supporting unaccompanied refugee minors.
*
By Leila Slimani. Translated by Sam Taylor. Viking. 336 pages. Out June 20.
If you loved Slimani's In the Country of Others, be sure to pick up her latest, Watch Us Dance. Set in Morocco in the 1960s, the story explores identity, rebellion, race and family dynamics in rich, irresistible prose.
*
By Ana Menéndez. Counterpoint. 240 pages. Out June 27.
Spanning decades, this fresh novel tells the stories of the different residents of one apartment in The Helena building in South Miami Beach. Full of stories, longing, isolation and connection, it starkly mirrors a broader reality.
*
By Emma Mieko Candon (@emmacandon). Tordotcom. 496 pages. Out June 27.
Okay, I admit it: I'd never read mecha fiction. But this is the one I started with! And you should too. It's robots and AI and gods and queerness and thank goodness it's only the first in a new series!
*
By Thao Thai (@thao_writes). Mariner Books. 336 pages. Out June 27.
Traversing decades and continents, this lovingly written debut is focused on three generations of Vietnamese American women. As they mourn the passing of their matriarch, they come together and face secrets, misunderstandings, pain, forgiveness and love.
*
By Mihret Sibhat. Viking. 400 pages. Out June 27.
This is the debut novel about a precocious little girl and her family trying to survive against the backdrop of political upheaval in Ethiopia. Themes of religion, loss, community and independence run through this unexpected and singular work.
*
By Sonali Kolhatkar (@sonalikolhatkar). City Lights Books. 228 pages. Out June 27.
Journalist Sonali Kolhatkar knows the importance of storytelling. Even more so, she understands the necessity of controlling the narrative in the media, popular culture and in daily conversations. Now she's written The Book on how to shift the narrative to bend toward justice.
*
By Gabi Burton (@query_queen339). Bloomsbury YA. 432 pages. Out June 27.
This YA debut offers fresh takes on the romantasy genre, with all Black and Brown characters, smart writing, love and deception, a cheeky MC and plot twists galore. Super fun and fantastical, it will have you eager for the next installment!
*
By Alana Lee Glaser (@alanaleeglaser). Temple University Press. 203 pages. Out June 30.
Anthropology professor Alana Lee Glaser has written this exemplary ethnography of the Domestic Workers United (DWU) organization and their tremendous efforts to help pass the 2010 New York State Domestic Worker Bill of Rights, the first labor law in the United States protecting in-home workers. All royalties go directly to the Domestic Workers United.
Up next:
U.S. democracy is at a dangerous inflection point—from the demise of abortion rights, to a lack of pay equity and parental leave, to skyrocketing maternal mortality, and attacks on trans health. Left unchecked, these crises will lead to wider gaps in political participation and representation. For 50 years, Ms. has been forging feminist journalism—reporting, rebelling and truth-telling from the front-lines, championing the Equal Rights Amendment, and centering the stories of those most impacted. With all that's at stake for equality, we are redoubling our commitment for the next 50 years. In turn, we need your help, Support Ms. today with a donation—any amount that is meaningful to you. For as little as $5 each month, you'll receive the print magazine along with our e-newsletters, action alerts, and invitations to Ms. Studios events and podcasts. We are grateful for your loyalty and ferocity.