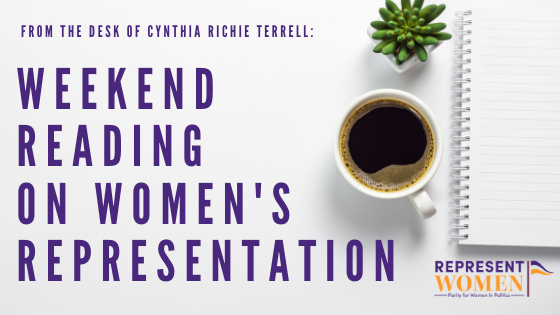 Weekend Reading on Women's Representation is a compilation of stories about women's representation in politics, on boards, in sports and entertainment, in judicial offices and in the private sector in the U.S. and around the world—with a little gardening and goodwill mixed in for refreshment!
---
Last week, RepresentWomen's research team released a memo: "Voting Systems and Women's Representation: Lessons from Around the World and the Case for Proportional Ranked-Choice Voting in the United States." Many thanks to Courtney Lamendola, Fatma Tawfik, Marvelous Maeze, Steph Scalgia and our terrific interns for pulling together this critical update to our work on international voting systems and how they affect women's representation.
How Voting Systems Impact Women's Representation
Some of the key takeaways from the memo are as follows:
In the United States and around the world, stories of exceptional women in politics reinforce the value of women's leadership, but often overshadow the fact that most record-breaking gains for women's representation are incremental, and that women remain underrepresented overall. Experts in international development similarly affirm both the importance of women's leadership and the problem with focusing solely on individual stories of success rather than the rules and systems that determine whether women are likely to enter politics in the first place…

According to our research, countries with proportional voting systems tend to yield better outcomes for women in politics than countries with plurality-majority systems, like the United States. Specifically, we found that:

(1) Most countries ranked above the U.S. have a proportional voting system. Of the 73 countries that are either tied with or rank above the U.S., a majority (60%) have proportional representation (PR), while 18 (25%) have a plurality-majority system, 9 (12%) have a semi-proportional system, and 2 (2%) have either no direct election system or are in a period of political transition.

(2) Women are least represented in countries with plurality-majority systems. Of 193 countries, 69 use plurality or majority voting systems. On average, women hold 25% of seats in parliament worldwide. Comparatively, women hold 19% of seats in parliament in countries with plurality-majority systems.

(3) Women are better represented in countries with proportional voting. Of 193 countries, 84 have proportional representation. On average, women hold 31% of all parliamentary seats in countries with proportional representation.
We also found that any voting system paired with gender quotas yielded better levels of representation for women in parliament.

(1) Most countries ranked above the U.S. have some form of gender quotas. Of the 73 countries that are either tied with or rank above the U.S., a majority (81%) have some form of gender quota. On average, women hold 29% of parliamentary seats in all countries with gender quotas.

(2) Women are best represented in countries with PR and gender quotas. Of 193 countries, 72 have both proportional representation and gender quotas; women hold 32% of parliamentary seats in these countries. By contrast, of the 43 countries with plurality-majority systems and no gender quotas, which includes the United States, women hold 17% of all parliamentary seats.
While there are no gender categories for women in politics, the United States uses gender categories in other spaces. For example, the Academy uses gender categories (as well as ranked-choice voting) for the Oscars.
---
Sarah Polley Celebrates Finally Being Heard With Her Oscar Win
This past Sunday, Sarah Polley won the Oscar for best-adapted screen for Women Talking. Polley describes the story as "a radical act of democracy in which people who don't agree on every single issue manage to sit together in a room and carve out a way forward together."
Women working together is not just fictional. According to U.N. Women, women work across party lines, even in the most politically hostile environments. Polley's words were true about the novel and in real life.
In her speech, Polley reminded the hundreds of people in the room — and the millions more watching worldwide — that the sexually abused women in her fact-based drama were taking action against their abusers "not just by talking but also by listening," an important distinction. She might also have added that the women in her film, including characters played by Jessie Buckley, Rooney Mara and Claire Foy, ultimately resolve to not just talk but also to do something about their situation.
---
Michelle Yeoh Highlights the Value of Women's Leadership
In Opinion

"I'm 60 years old, and I just won my first Oscar. I know something about perseverance," Michelle Yeoh writes. "I'm also well aware that my experience can't compare at all with that of the women heroes I met who are on the front lines of crises."https://t.co/PvRpjydsca

— The New York Times (@nytimes) March 13, 2023
In the New York Times, actor Michelle Yeoh wrote a powerful piece on her experiences with different crises and how they illuminate the need for women in leadership. She reminds us why we need systems reforms, like ranked-choice voting, so that more women can win elections and gender-balanced appointments so more women can lead at every level of government:
We know women sustain their communities. Their voices, leadership and full participation are key to an inclusive, successful and sustainable recovery. This means considering women's needs, priorities and safety when rebuilding neighborhoods and constructing schools and marketplaces. It means ensuring women have equal access to information, job opportunities and skills training, as well as loans and insurance mechanisms, which are all crucial to regain financial stability.

We know having more women in positions of power and as decision makers at community, national and institutional levels leads to more inclusive policies, laws and practices that protect and contribute to gender equality at all levels. It means striving for zero tolerance for gender-based violence at home, at work, online or anywhere else. And it also means investing in women's education to ensure their voices are represented at the highest levels of government and society…

I'm 60 years old, and I just won my first Oscar. I know something about perseverance, and I am all too aware of what society expects of women. I'm also well aware that my experience can't compare at all with that of the women heroes I met who are on the front lines of crises. But if I can do one thing with this moment of my professional joy, it would be to point the spotlight on those who all too often go unacknowledged, the women who are rebuilding their communities, taking care of children and older people and putting food on the table. Let's make sure they are not missing from the room when decisions are being made that affect them the most.
---
The Push for Ranked-Choice Voting in Minnesota
Our allies in Minnesota are doing great work to get ranked-choice voting implemented! Jeanne Massey from FairVote MN is helping to lead this effort and the bill was passed out of committee last week. State Senator Kelly Morrison's insights on RCV were shared in the MinnPost:
Currently, five cities elect local offices using the system. They are Minneapolis, St, Paul, St. Louis Park, Bloomington and Minnetonka. Two states, Maine and Alaska, use RCV for state and federal offices.

Morrison told the committee that "toxic politics and division are damaging our democracy" and that her bill – what she calls the Protect and Advance Democracy Act – is a remedy for that.

"Ranked-choice voting is one of the best steps we can take to reduce our political divisions and strengthen our democracy," she said. "Candidates must appeal to their opponents' supporters for second and third choice votes. They do that by running positive campaigns that focus on policy solutions rather than personal attacks."
---
Rest in Power, Patricia Schroeder, a Pioneer for Women's Rights
On March 13, former Representative Pat Schroeder died in a hospital in Florida. She was 82. Schroeder was best known for signing a family leave bill in 1993. She was truly a pioneer for women's rights in the United States.
Schroeder took on the powerful elite with her rapier wit and antics for 24 years, shaking up stodgy government institutions by forcing them to acknowledge that women had a role in government.

Her unorthodox methods cost her important committee posts, but Schroeder said she wasn't willing to join what she called "the good old boys' club" just to score political points. Unafraid of embarrassing her congressional colleagues in public, she became an icon for the feminist movement.
---
RepresentWomen alums Maura Reilly (left) and Toni Gingerelli (second from left), along with our outreach manager Alissa Bombardier Shaw (right) met with legendary woman leader Joan Claybrook (second from right) at a lovely event at Ambassador Swanee Hunt's apartment in Washington, D.C.
Claybrook played a key role in getting Congress to mandate safety measures that are now commonplace, like airbags and seatbelts.
At the event, "A Conversation with Monica McWilliams, author of Stand Up, Speak Out," I got to spend time with RepresentWomen board member Rina Shah, along with author Monica McWilliams who has been a key leader in the work for peace in Ireland and around the globe. She read aloud from her new book, Stand Up, Speak Out, in which she describes her remarkable journey advocating for women's leadership in peace processes.
And we ended the night with RW alums and staff with fabulous ally Samantha Karlin admiring Swanee's Marc Chagall.
Up next:
U.S. democracy is at a dangerous inflection point—from the demise of abortion rights, to a lack of pay equity and parental leave, to skyrocketing maternal mortality, and attacks on trans health. Left unchecked, these crises will lead to wider gaps in political participation and representation. For 50 years, Ms. has been forging feminist journalism—reporting, rebelling and truth-telling from the front-lines, championing the Equal Rights Amendment, and centering the stories of those most impacted. With all that's at stake for equality, we are redoubling our commitment for the next 50 years. In turn, we need your help, Support Ms. today with a donation—any amount that is meaningful to you. For as little as $5 each month, you'll receive the print magazine along with our e-newsletters, action alerts, and invitations to Ms. Studios events and podcasts. We are grateful for your loyalty and ferocity.