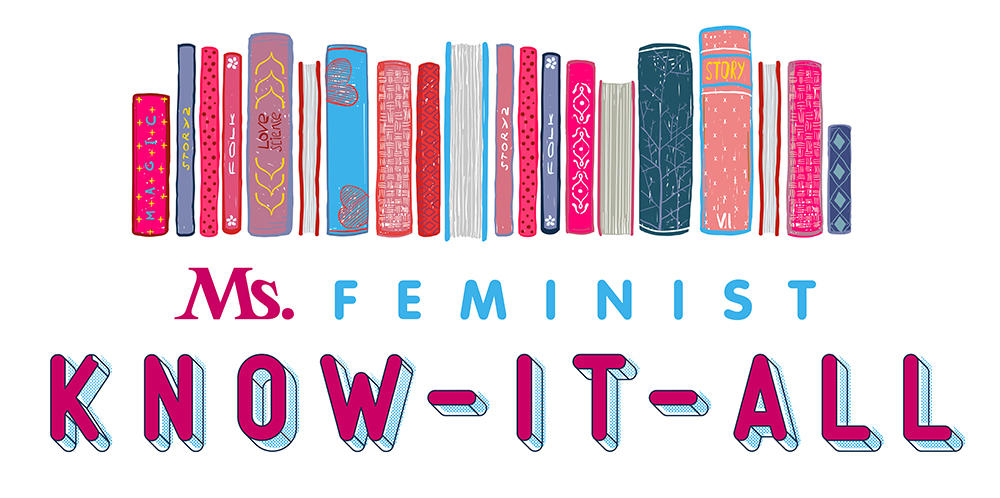 The Feminist Know-It-All: You know her. You can't stand her. Good thing she's not here! Instead, this column by gender and women's studies librarian Karla Strand will amplify stories of the creation, access, use and preservation of knowledge by women and girls around the world; share innovative projects and initiatives that focus on information, literacies, libraries and more; and, of course, talk about all of the books.
---
Each month, I provide Ms. readers with a list of new books being published by writers from historically excluded groups.
The aims of these lists are threefold:
I want to do my part in the disruption of what has been the acceptable "norm" in the book world for far too long—white, cis, heterosexual, male;
I want to amplify indie publishers and amazing works by writers who are women, Black, Indigenous, Latinx, APIA/AAPI, international, queer, trans, nonbinary, disabled, fat, immigrant, Muslim, neurodivergent, sex-positive or of other historically marginalized identities—you know, the rest of us; and
I want to challenge and encourage you all to buy, borrow and read them!
Hello, friends!
As we head into the dog days of summer in the northern hemisphere, it's a time when I enjoy getting into (or out of!) the sunny, warm weather and losing myself in a great book.
I particularly enjoy books that are as entertaining as they are informative. Books that I just want to burn through because they are so good. Some call them "unputdownable," and I dare say that on this list, you'll find 30 that are just that.
Another one that's unputdownable? It's 50 Years of Ms.: The Best of the Pathfinding Magazine that Ignited a Revolution, and it's available for pre-order now! This celebration of the groundbreaking feminist magazine will go on sale Sept. 19 from Knopf; pre-order yours and get it sent to your door. Love the magazine? Buy the book!
Happy reading!
---
By Jimin Han (@jiminhanwriter). Little, Brown & Co. 304 pages. Out Aug. 1.
This is a wonderful book in that it is beautiful and memorable, but it is also full of wonder! Centering on a 105-year-old woman and her sisters in South Korea, it spans generations and worlds, exploring secrets, family, traditions, loyalty and loss.
*
Edited by Mara Mills (@maramills) and Rebecca Sanchez. NYU Press. 384 pages. Out Aug. 1.
This illuminating collection of essays focuses on the variety and value of crip creation, methodology, writing and research. With contributions from Mel Y Chen, Jaipreet Virdi, Emily Lim Rogers, Ellen Samuels and many more, it is urgent and original.
*
By Naomi Hirahara. Soho Crime. 312 pages. Out Aug. 1.
In this follow-up to her award-winning Clark and Division—which can be read as a standalone—Naomi Hirahara once again immerses readers in a gripping crime mystery while eloquently highlighting the challenges and inequalities facing Japanese Americans after World War II.
*
By Elizabeth Acevedo (@acevedowrites). Ecco. 384 pages. Out Aug. 1.
Elizabeth Acevedo, National Book Award-winning author of The Poet X, has blessed us with her first novel for adults. As she experiments with form and perspective, Acevedo tells the story of one Dominican-American family gathering for the "living wake" of one of their own. This is magical, sumptuous storytelling.
*
Edited by Jenn Northington (@iamjennirl) and S. Zainab Williams (@szainabwilliams). Vintage. 400 pages. Out Aug. 1.
By masterfully playing with race, gender and queerness, this refreshing anthology reimagines the classics of Greek mythology. It features retellings by some of your favorites, including Sarah Gailey, Alyssa Cole, Valerie Valdes, Suleikha Snyder, Zoraida Córdova, and more.
*
By Esmeralda Santiago. Knopf. 336 pages. Out Aug. 1.
This sweeping and supple story centers on three Puerto Rican women and their daughters living in the Bronx who plan a vacation to Puerto Rico to uncover a long-buried mystery. Layered and intricately woven, this novel covers themes of trauma, sexuality, identity, forgiveness and healing.
*
By J. Vanessa Lyon (@jv_lyon_words). Roxane Gay Books. 352 pages. Out Aug. 1.
The second book from Roxane Gay's new imprint is this debut centering on several women in Harlem as they make sense of queer love, layered relationships, life's legacies and one inherited brownstone.
*
By Mona Susan Power (Standing Rock Sioux Tribe). Mariner Books. 304 pages. Out Aug. 8.
This is the powerful story of three Yanktonai Dakota women who, as girls, each had a very different doll that they turned to for friendship and protection in the midst of intergenerational trauma. In empathetic and loving prose, Power highlights the wisdom, love and healing that allows for the survivance of Native peoples on this land.
*
Written by Gwenola Ricordeau (@gwenola.ricordeau). Translated by Emma Ramadan and Tom Roberge. Verso. 192 pages. Out Aug. 8.
With a new foreword by Silvia Federici, this volume makes a feminist case for the abolition of the prison system as we have known it. Ricordeau deftly explores the harms of incarceration and the path to a more just system for all.
*
By Kristal Brent Zook (@kristalzook). Duke University Press. 232 pages. Out Aug. 8.
In this intimate and generous memoir, Kristal Brent Zook explores the complexities of her past and the consummation of her present as a biracial daughter of a white father who left and the Black mother and grandmother who raised her.
*
Written by Guadalupe Nettel. Translated by Rosalind Harvey. Bloomsbury Publishing. 224 pages. Out Aug. 8.
Now shortlisted for the 2023 International Booker Prize, this endlessly readable yet profoundly insightful novel centers on two women who focus on career over family. When one changes her mind, the women wrestle with their feelings, their freedom and their friendship.
*
Edited by Shreerekha Pillai. University of Illinois Press. 272 pages. Out Aug. 15.
Inspired by the Combahee River collective, this is a collection of essays exploring how neoliberalism, racism and patriarchy have influenced carcerality across the US. It includes contributions from Demita Frazier, Tria Blu Wakpa, Jennifer Musial, Zarinah Agnew, Cassandra D. Little and more.
*
By Ethel Tungohan. University of Illinois Press. 256 pages. Out Aug. 15.
In this poignant and imperative volume, Ethel Tungohan explores how deeply and distinctly migrant worker communities care for themselves and one another. In so doing, they demonstrate radical resistance and critical hope.
*
By Sandra Guzman (@mssandraguzman). Amistad. 576 pages. Out Aug. 15.
This is a gorgeous anthology of writing by Latinx women. Including a variety of styles, voices, cultures and traditions, this collection boasts contributions by Sandra Cisneros, Anaïs Nin, Edwidge Danticat, Ivelisse Rodriguez, Ingrid Rojas Contreras, Reyna Grande, Jamaica Kincaid, and so many more.
*
By Cleo Qian (@clllqian). Tin House Books. 256 pages. Out Aug. 15.
Cleo Qian's debut collection of stories may not be for the faint of heart. Queering stereotypes of Asian American women and questioning our dependence on tech, these stories complicate consumerism, capitalism, duty and desire.
*
By Joy James. Common Notions. 240 pages. Out Aug. 15.
In her remarkably compelling new book, Joy James explores the captive maternal, "one who is tied to the state's violence through their non-transferable agency they have to care for one another." A powerful treatise in service to liberation.
*
By Pidgeon Pagonis (@pidgeon). TOPPLE Books & Little A. 235 pages. Out Aug. 15.
Pidgeon Pagonis has written the memoir about intersex identity, family secrets and radical healing that we all need right now. Celebratory and liberatory, it is a journey to self-love that readers won't soon forget.
*
Edited by Debanuj Dasgupta, Joseph Donica, and Margot Weiss. The Feminist Press at CUNY. 448 pages. Out Aug. 15.
The David R. Kessler Lecture series was established in 1992 by CLAGS: Center for LGBTQ Studies at the City University of New York. This volume collects lectures given by some of the most influential queer thinkers of the last two decades and includes contributions from Dean Spade, Susan Stryker, Adrienne Rich, Cathay J. Cohen, and more.
*
By Jocelyn Simonson (@j_simonson). The New Press. 240 pages. Out Aug. 15.
A former public defender, Jocelyn Simonson makes the argument that the dismantling of mass incarceration must take place through the actions of ordinary people. She delivers plenty of examples and ideas for readers to take, so we stop depending on others to take the lead.
*
By Nigar Alam (@nigaralamwrites). G.P. Putnam's Sons. 320 pages. Out Aug. 15.
This is the dazzling debut novel about the devastating effects of Partition on four friends and the horrible secret that keeps their lives intertwined. Rumbling with themes of class, family, legacy and loyalty, Under the Tamarind Tree is personal, political and poignant.
*
By Isabel Cañas (@isabelcanas_). Berkeley. 384 pages. Out Aug. 15.
A story about the horrors of colonialism and invasion wrapped up in vampires and curanderas? Sign me up! This larger-than-life "supernatural western" successfully blends historical details and original storytelling.
*
By Pardis Mahdavi. Hachette Books. 304 pages. Out Aug. 22.
With her latest fascinating book, Pardis Mahdavi brings some long-since-buried history into the light. In it, she expertly traces the genealogy of generations of Middle Eastern horsewomen who not only fought for freedom but who also saved Caspian horses from extinction. 
*
By Shelley Parker-Chan (@shelleyparkerchan). Tor Books. 496 pages. Out Aug. 22.
The second book of the Radiant Emperor duology, He Who Drowned the World is just as exciting, epic and stunningly written as the first. It will leave you on the edge of your seat until the final page.
*
Written by Keum Suk Gendry-Kim (@keumsukgendrykim). Translated by Janet Hong. Drawn and Quarterly. 316 pages. Out Aug. 22.
Based on Park Wan-seo's masterful novel, The Naked Tree is Keum Suk Genry-Kim's latest exceptionally adapted and illustrated graphic novel. Set against the backdrop of the Korean War, this volume is a compelling look at friendship, love, art and peace.
*
By Jen Soriano (@jensorianowrites). Amistad. 336 pages. Out Aug. 22.
Candid and original, this collection addresses transgenerational trauma and healing using science, history and memoir. In it, Soriano lyrically reflects on the nervous among us and brings new understanding to the liberatory power of naming, uncovering and healing.
*
By Prachi Gupta (@prachigu). Crown. 288 pages. Out Aug. 22.
This singular memoir explores the model minority myth and its devastating effects on Prachi Gupta and her family. A meditation on trauma, belonging and self, it's also a powerful statement on mental health, the American Dream and the costs of success.
*
By S. L. Huang (@slhuang). Tordotcom. 496 pages. Out Aug. 22.
When Lin Chong joins the ruthless and revolutionary Bandits of Liangshan, her life changes for good. Feminist, fantastical and queer AF, this action-packed martial arts adventure will knock your socks off.
*
By K. Wroten (@jukeboxcomix). Fantagraphics. 452 pages. Out Aug. 29.
K. Wroten's latest is the perfect combination of dystopic terror and blisteringly funny critique of capitalism, consumerism, modern daily life and media culture. Sharply drawn and wickedly told, Eden II is a delightful dive into the deep.
*
By Megan Kamalei Kakimoto (Japanese/kanaka maoli) (@megankakimoto). Bloomsbury. 272 pages. Out Aug. 29.
The world desperately needs more Hawaiian voices in literature (and everywhere!), and Megan Kamalei Kakimoto's debut collection is a brave and atmospheric addition. Reflective and bold, the stories take on the violence of colonization while celebrating Hawaiian identity and womanhood.
*
Edited by Lynn Lewis. City Lights Publishers. 280 pages. Out Aug. 29.
In this inspiring volume, award-winning oral historian Lynn Lewis collected interviews with nine dedicated community organizers whose legacies illuminate pathways for us all. From defending the unhoused and domestic workers to those fighting for climate justice and reproductive rights, these "ordinary" women dedicated themselves to extraordinary work within their communities.
Up next:
U.S. democracy is at a dangerous inflection point—from the demise of abortion rights, to a lack of pay equity and parental leave, to skyrocketing maternal mortality, and attacks on trans health. Left unchecked, these crises will lead to wider gaps in political participation and representation. For 50 years, Ms. has been forging feminist journalism—reporting, rebelling and truth-telling from the front-lines, championing the Equal Rights Amendment, and centering the stories of those most impacted. With all that's at stake for equality, we are redoubling our commitment for the next 50 years. In turn, we need your help, Support Ms. today with a donation—any amount that is meaningful to you. For as little as $5 each month, you'll receive the print magazine along with our e-newsletters, action alerts, and invitations to Ms. Studios events and podcasts. We are grateful for your loyalty and ferocity.