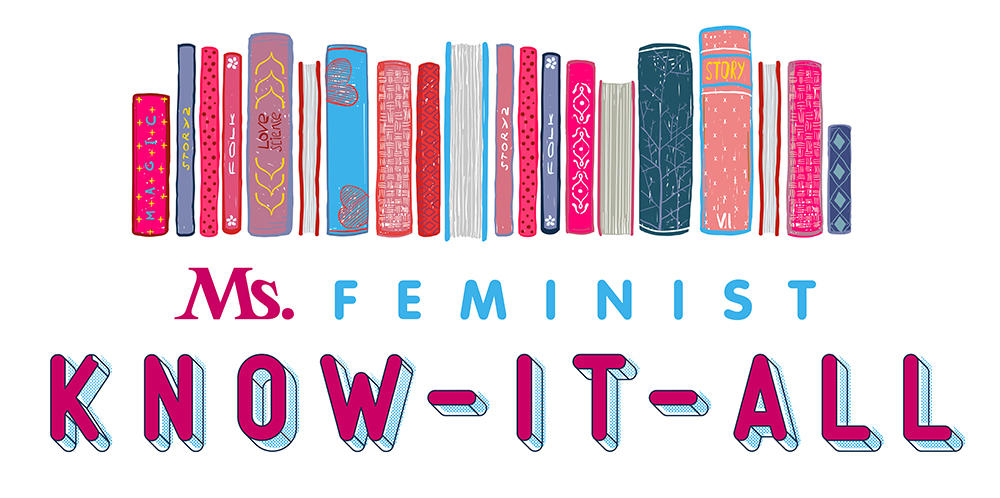 The Feminist Know-It-All: You know her. You can't stand her. Good thing she's not here! Instead, this column by gender and women's studies librarian Karla Strand will amplify stories of the creation, access, use and preservation of knowledge by women and girls around the world; share innovative projects and initiatives that focus on information, literacies, libraries and more; and, of course, talk about all of the books.
---
Each month, I provide Ms. readers with a list of new books being published by writers from historically excluded groups.
The aims of these lists are threefold:
I want to do my part in the disruption of what has been the acceptable "norm" in the book world for far too long—white, cis, heterosexual, male;
I want to amplify indie publishers and amazing works by writers who are women, Black, Indigenous, Latinx, APIA/AAPI, international, queer, trans, nonbinary, disabled, fat, immigrant, Muslim, neurodivergent, sex-positive or of other historically marginalized identities—you know, the rest of us; and
I want to challenge and encourage you all to buy, borrow and read them!
Happy autumn (in the Northern hemisphere)!
As I write this, we are observing the autumnal equinox, where the daylight hours exactly equal the nighttime hours. So in the States, we are gearing up for fall, and in the Midwest where I am, we are sucking every last drop of sunlight out of the sky before it grows darker and colder.
I normally love seasonal changes; to me, they always signal renewal and transformation, grateful goodbyes and making way for new ventures. Wherever you are, I am hopeful you have time for reflection, gratitude and planning for whatever the future holds for you.
Just be sure to make some time to read one or two of these 30 new books, or whatever goes well with your pumpkin spice latte or hot apple cider! 
---
By Derecka Purnell (@dereckapurnell). Astra House. 320 pages. Out Oct. 4.
Somehow I missed including this one when the hardcover came out in October of 2021. But here's the paperback, with new material, just when we need it! 
---
Written by Gabriela Ponce and translated by Sarah Booker (@sarahkbooker). Restless Books. 192 pages. Out Oct. 4. 
Now available in English, this sharp and singular stream of consciousness story of one woman's experiences of divorce, embodiment, love, womanhood, power and freedom. Wicked in all the best ways.
---
Written by Igiaba Scego (@casamacombo). Translated by John Cullen and Gregory Conti. Other Press. 544 pages. Out Oct. 4. 
An ode to Black migrants' artistry, ambition and experiences as the "other," The Color Line examines the unbreakable bond between two women living over a century apart. 
---
By Emerald Garner with Etan Thomas and Monet Durham. Haymarket Books. 180 pages. Out Oct. 4. 
This is the searing memoir of Emerald Garner, the daughter of Eric Garner, who was brutally murdered by police in 2014.
---
By Leah Lakshmi Piepzna-Samarasinha (@leahlashmiwrites). Arsenal Pulp Press. 272 pages. Out Oct. 4.
As only they can, Piepzna-Samarasinha has written a thoughtful volume of songs, letters, messages and stories for and about the life-sustaining work of disabled people during COVID (and always).
---
Edited by Joe Vallese (@joevallese). The Feminist Press at CUNY. 400 pages. Out Oct. 4. 
Your nonfiction Halloween read is this fantastic anthology of writing about horror, all from deliciously queer perspectives. It includes contributions from Carmen Maria Machado, Prince Shakur, Tosha R. Taylor, Sarah Fonseca, and more, writing their takes on your favorite spooky flicks.
---
Edited by Charisse Burden-Stelly (@blackleftaf) and Jodi Dean (@jodi7768). Verso. 336 pages. Out Oct. 4. 
In this groundbreaking collection, Burden-Stelly and Dean have compiled a treasure trove of historical, political and seminal writings about Communism from Black women's perspectives. Includes pieces by Claudia Jones, Charlotta Bass, Alice Childress, Dorothy Burnham and so many more. 
---
By Jennifer Givhan (@GivhanJenn). Blackstone Publishing. 330 pages. Out Oct. 4. 
Full of magick and mystery, Givhan's latest explores tradition, power, creativity and connection in her signature lush, sensual prose. 
---
By Ann Dávila Cardinal (@anndcardinal). Sourcebooks Landmark. 336 pages. Out Oct. 4. 
If it's mystical, masterful storytelling you crave this month, you'll want to pick up award-winning writer Cardinal's latest, which explores themes of loss, blessings, ancestry and mystery. 
---
By Stephen Shames (@stephenshames)and Ericka Huggins. Acc Art Books. 192 pages. Out Oct. 10.
This stunning volume is an ode to the imperative, yet often unappreciated, roles of women of the Black Panther Party. Complementing Ericka Huggins' superlative text are candid photos by Stephen Shames, many of which have never been published before.  
---
By Marcie R. Rendon (White Earth Nation) (@MarcieRendon). Soho Crime. 240 pages. Out Oct. 11. 
Thank goodness, Cash Blackbear is back! If you like a good mystery, this will be right up your alley.
---
By Vanessa A. Bee (@Vanessa_ABee). Astra House. 256 pages. Out Oct. 11.
This candid and compelling debut memoir examines identity, migration, status, tradition and family ties in intimate and evocative detail. 
---
Written by Djaili Amadou Amal. Translated by Emma Ramadan (@EmKateRam). HarperVia. 176 pages. Out Oct. 11. 
This powerful debut explores what happens when three Cameroonian women dare to challenge tradition, deconstruct taboos and fight for security and freedom.
---
By Charlayne Hunter-Gault (@charlaynehg). Harper. 368 pages. Out Oct. 11.
Pathblazing journalist Charlayne Hunter-Gault has gifted us this collection of some of her most essential pieces, illustrating the beauty, variety and nuance of the Black experience over five decades.
---
By Tricia Hersey (@TheNapMinistry). Little, Brown Spark. 224 pages. Out Oct. 11.
If you don't follow The Nap Ministry, what are you even doing? Get on that, get the book and then read, nap, rest, relax and repeat. It's for the resistance, after all.
---
By Ruha Benjamin (@ruha9). Princeton University Press. 392 pages. Out Oct. 11. 
Have the last few years been a veritable dumpster fire of crises in health and humanity? Yes! And there's no one better to light the way out and guide us in building a just future than Ruha Benjamin. 
---
By April Ryan (@AprilDRyan). Amistad. 208 pages. Out Oct. 18.
As long-time White House correspondent, April Ryan, reflects on 2020, she reminds us of the Black women who have (always) led the way on paths to justice, well-being and truth.   
---
Written by Kaoru Takamura, translated by Allison Markin Powell and Marie Iida. Soho Crime. 600 pages. Out Oct. 18.
Are as excited for Lady Joker 2 as I am? Well, okay, probably not. But if you haven't given this brilliantly dark and mysterious crime saga a read yet, there's no time like the present! 
---
Grand Central Publishing. 256 pages. Out Oct. 18.
This groundbreaking volume is the first collection of Afghan women's short fiction. The stories are reflective, surprising and candid, as the authors grapple with gender, tradition, relationships, violence, work and more. 
---
By Luke Dani Blue (@LukeDaniBlue). Amethyst Editions. 256 pages. Out Oct. 18.
In their first collection of stories, Luke Dani Blue explores queerness, identity and meaning-making in new, intense and remarkable ways. 
---
By Chelsea Manning (@xychelsea). Farrar, Strauss and Giroux. 272 pages. Out Oct. 18. 
It's here! It's here! Those of you who read this column know how long I've been awaiting Chelsea Manning's memoir. I haven't gotten my hands on it yet, but I've waited this long, so I can wait a little longer…
---
By Chanté Reid. Sarabande Books. 96 pages. Out Oct. 18. 
Reid's incisive debut is not for the faint of heart. Don't let the small size fool you, it's full of experimental prose, poetics, photos, thoughts, secrets, depth and breadth. Stick with it and witness the brilliant vulnerability that it gently holds.   
---
By Fatimah Asghar (@asgharthegrouch). One World. 352 pages. Out Oct. 18.
Longlisted for the National Book Award and the Center for Fiction First Novel Prize, this debut is not to be missed. It's an achingly lovely story of sisterhood, loss, violence and redemption.  
---
By Nadia Shammas (@nadiashammas) and Marie Enger (@so_engery). Tor Nightfire. 128 pages. Out Oct. 18.
Here's your graphic novel for Halloween! Shammas and Enger have created a singularly compassionate and gorgeous look at mental health, horror and humanity. 
---
By Lizzie Borden (@LizzieBordenLA). Seven Stories Press. 432 pages. Out Oct. 18.
In this candid and kaleidoscopic anthology, filmmaker Lizzie Borden presents a glorious, shocking and illuminating collection of autobiographical stories and interviews by and about strippers. 
---
By Nghi Vo (@nghivowriting). Tordotcom. 112 pages. Out Oct. 25. 
Nghi Vo's last installment of the Singing Hills series continues the magical, mythical and memorable adventures of Chih, the wandering cleric. If you are late to the series, don't worry, they can be read in any order—and you don't want to miss them! 
---
By Wanda A. Hendricks. University of Illinois Press. 344 pages. Out Oct. 25.
This is the long-overdue biography of Madie Hall Xuma, who took her social justice work in the Jim Crow U.S. South to South Africa during the height of apartheid. 
---
Edited by Shane Burley (@shane_burley1). AK Press. 564 pages. Out Oct. 25. 
With contributions by Margaret Killjoy, Mirna Wabi-Sabi, Shane Burley, Emily Gorcenski and many more, this remarkable collection focuses on anti-fascism and the fight against white supremacy and far-right hate. 
---
By Shira Hassan. Haymarket Books. 408 pages. Out Oct. 25.
For decades, Shira Hassan has led the labor for liberatory harm reduction. Now she has compiled this groundbreaking anthology to share stories, successes and lessons. 
---
By Sami Schalk (@DrSamiSchalk). Duke University Press. 224 pages. Out Oct. 31. 
In their latest, Sami Schalk explores the histories and essential lessons of Black disabled labor, politics and movements. This is a long-overdue and essential volume.
U.S. democracy is at a dangerous inflection point—from the demise of abortion rights, to a lack of pay equity and parental leave, to skyrocketing maternal mortality, and attacks on trans health. Left unchecked, these crises will lead to wider gaps in political participation and representation. For 50 years, Ms. has been forging feminist journalism—reporting, rebelling and truth-telling from the front-lines, championing the Equal Rights Amendment, and centering the stories of those most impacted. With all that's at stake for equality, we are redoubling our commitment for the next 50 years. In turn, we need your help, Support Ms. today with a donation—any amount that is meaningful to you. For as little as $5 each month, you'll receive the print magazine along with our e-newsletters, action alerts, and invitations to Ms. Studios events and podcasts. We are grateful for your loyalty and ferocity.
Up next: