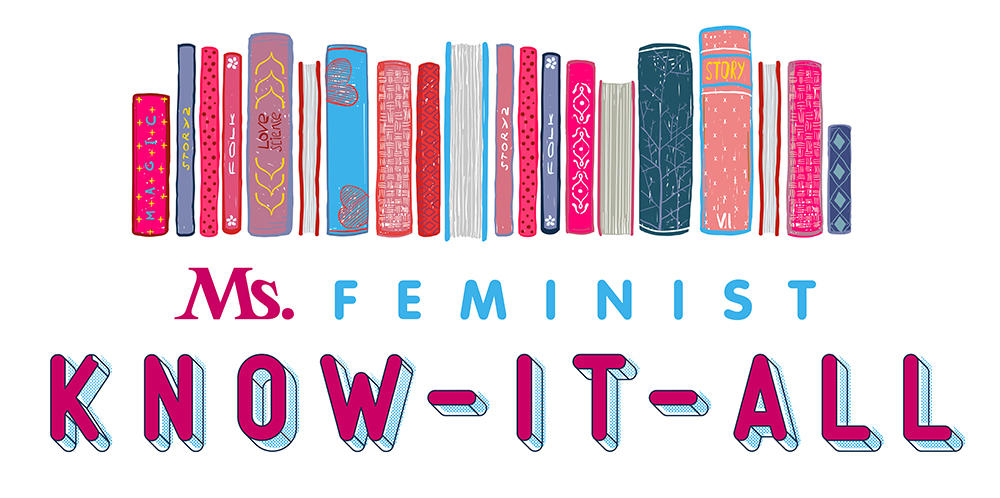 The Feminist Know-It-All: You know her. You can't stand her. Good thing she's not here! Instead, this column by gender and women's studies librarian Karla Strand will amplify stories of the creation, access, use and preservation of knowledge by women and girls around the world; share innovative projects and initiatives that focus on information, literacies, libraries and more; and, of course, talk about all of the books.
---
Each month, I provide Ms. readers with a list of new books being published by writers from historically excluded groups.
The aims of these lists are threefold:
I want to do my part in the disruption of what has been the acceptable "norm" in the book world for far too long—white, cis, heterosexual, male;
I want to amplify indie publishers and amazing works by writers who are women, Black, Indigenous, Latinx, APIA/AAPI, international, queer, trans, nonbinary, disabled, fat, immigrant, Muslim, neurodivergent, sex-positive or of other historically marginalized identities—you know, the rest of us; and
I want to challenge and encourage you all to buy, borrow and read them!
And here we are in June already. Happy summer! Happy Pride! Happy Soul Food Month! Happy National DJ Month!
However and whatever you celebrate, I do hope you allow yourself time to rest, relax and, of course, read! It's important to soak in some Vitamin D, some waves, some fresh air or some stars in the night sky. It's also National Camping Month, so get out there if that's what you like!
During this time of ongoing struggle and nonstop fights against innumerable injustices, be sure to stop and breathe every so often. And remind your friends to as well.
This list includes 38 of my most anticipated books releasing this month. I know I am grateful for the work of the writers who gift us their remarkable thoughts, knowledge, ideas and worlds. They help me to forget about reality for a bit… or help me learn how to keep fighting it.
---
By N. Jamiyla Chisholm (@jamiylachisholm). Little A. 191 pages. Out June 1.
In this compelling debut memoir, journalist N. Jamiyla Chisholm relates the story of her childhood spent in a Muslim cult, the trauma caused and the relationship with her mother that would take years to heal.
---
By B.L. Blanchard (Sault Ste. Marie Tribe of Chippewa Indians) (@blblanchard). 47North. 317 pages. Out June 1.
On a continent that was never colonized, an Ojibwe man works to solve two murders and uncover secrets that will test his abilities, his strength and everything he once knew to be true.
---
By Bernadine Marie Hernández (@berna18). University of North Carolina Press. 244 pages. Out June 7.
This important, nuanced volume shines a light on the importance of Mexicana, Nuevomexicana, Californiana and Tejana women in the evolution of the U.S. (south)west.
---
By Raquel Gutiérrez (@raquefella). Coffee House Press. 200 pages. Out June 7.
In their essential debut collection of essays, Gutiérrez examines class, queerness, aesthetics, citizenship and borders.
---
By Chelsea Vowel (Métis) (@apihtawikosisan). Arsenal Pulp Press. 272 pages. Out June 7.
Doing speculative and science fiction through a Métis framework, Chelsea Vowel challenges, entertains and becomes the voice of Indigenous futurism.
---
By J.A. Mensah. Saraband. 288 pages. Out June 7.
This award-winning debut offers a fresh and compelling take on one girl's coming of age as she confronts difficult and liberating truths of her identity, faith and purpose.
---
By Kirstin Chen (@kirstin_chen). William Morrow. 288 pages. Out June 7.
What happens when two former college roommates go all-in on a counterfeit handbag scheme? You will enjoy finding out in Chen's frank, feminist and funny new novel.
---
By Meron Hadero (@meronhadero). Restless Books. 224 pages. Out June 7.
This collection of stories not only won the 2020 Restless Books Prize for New Immigrant Writing but also the 2021 AKO Caine Prize for African Writing, so I am all in.
---
By Andrew Joseph White (@AJWhiteAuthor). Peachtree Teen. 416 pages. Out June 7.
Thoroughly original and wholly entertaining, this debut centers a trans teen infected with a bioweapon who escapes a cult and falls in with a queer motley crew hellbent on survival on their own terms.
---
By Nicole Pasulka (@nicolepasulka). Simon & Schuster. 336 pages. Out June 7.
In this incisive and important debut, journalist Nicole Pasulka provides a detailed and kaleidoscopic history of the drag scene in Brooklyn over the last decade.
---
By Toya Wolfe (@toyawolves). William Morrow. 224 pages. Out June 7.
I'm super-excited to read this debut coming-of-age story about a Chicago woman grappling with notions of home, history and relationships in the face of injustice.
---
By Sara El Sayed (@sarakelsayed). Greystone Books. 256 pages. Out June 7.
From a fresh new voice, this witty, touching memoir illuminates what it's like to grow up Egyptian and Muslim in Australia.
---
By Leila Mottley (@leilamottley). Knopf. 288 pages. Out June 7.
Focused on themes of policing, Black embodiment and survival, this remarkable debut follows an Oakland teen trying to care for her brother and neighbor against the odds.
---
By Elizabeth Nunez. Akashic Books. 256 pages. Out June 7.
The latest novel by Elizabeth Nunez offers a thrilling and timely perspective on the immigrant experience, racism and injustice in the contemporary U.S.
---
Edited by Reyna Grande (@reynagrande) and Sonia Guiñansaca (@thesoniag). HarperVia. 336 pages. Out June 7.
If you've wanted to better understand what life is like as an undocumented immigrant in the US today, look no further than this essential and creative anthology of over 40 poems, essays and works of art by Dreamers, migrants and refugees.
---
By Jesmeen Kaur Deo (@jdeowrites). Viking BYR. 368 pages. Out June 7.
When confronted with hurtful stereotypes about Indian girls, popular high school debater TJ Powar makes a statement—to herself and others—about beauty, strength and self-worth.
---
Edited by Mary Ann Jacobs (Lumbee), Cherry Maynor Beasley (Lumbee) and Ulrike Wiethaus. Blair. 204 pages. Out June 7.
A singular collection of stories, essays, poems and interviews, this long-overdue volume highlights and honors the myriad voices and experiences of Southeastern Native women.
---
By Kali Fajardo-Anstine (@kalimafaja). One World. 336 pages. Out June 7.
This unforgettable epic Western saga spans five generations of an Indigenous Chicano family—their lives, loves, secrets, stories.
---
By Jessica Nabongo (@jessicanabongo). National Geographic. 416 pages. Out June 14.
Get ready for some serious wanderlust after checking out this book! Travel writer Jessica Nabongo lets us bask in her glory with delightful stories and breathtaking photographs of her top 100 adventures in the world.
---
By Christine Kandic Torres (@christinekandic). HarperVia. 304 pages. Out June 14.
Two Latinx friends experience the highs and lows of growing up, love and loss together in Queens. As women years later, they are confronted with accusations and secrets that may tear their friendship apart.
---
By Staci Lola Drouillard (Grand Portage Band of Lake Superior Anishinaabe). University of Minnesota Press. 320 pages. Out June 14.
In this unique and compelling memoir, Staci Lola Drouillard tells the stories of her seven aunts—Anishinaabe and European—whose strength, spirit and determination to thrive illustrate that of so many other overlooked women throughout history.
---
By Nandita Dinesh. Melville House. 320 pages. Out June 14.
Original and inventive, this is a novel that speaks to our times. In it, two friends, one from "This Place" and the other from "That Place," are challenged when one place occupies the other.
---
By Linda Villarosa (@lindavillarosa). Doubleday. 288 pages. Out June 14.
Finally, we have the definitive and long-overdue volume detailing the real cost of racism on the health and well-being of Black people in the US. Consider it #RequiredReading.
---
By Melissa Grey (@meligrey). Feiwel & Friends. 384 pages. Out June 14.
This exciting, adventurous historical fantasy features two Latinx lesbian heroines fighting for truth and justice in 17th century Peru. Did I mention it's inspired by real teens known as the Valiant Ladies of Potosí?!
---
Edited by Amy Brady (@ingredient_x) and Tajja Isen (@tajjaisen). Catapult. 288 pages. Out June 14.
This urgent anthology includes reflections from nineteen writers on how climate change has directly affected their lives. Contributors include Melissa Febos, Lidia Yuknavitch, Porochista Khakpour, Tracy O-Neill and Mary Annaïse Heglar.
---
By Timeka N. Tounsel (@tntounsel). Rutgers University Press. 182 pages. Out June 17.
What happens to Black Girl Magic when racial capitalism gets a hold of it? In this necessary historical examination, Tamika N. Tounsel explores Black women's representation in the "image economy" and just who is profiting from it.
---
By Sutanya Dacres (@sutanyad). Park Row. 352 pages. Out June 21.
In this compelling memoir, podcaster Sutanya Dacres shares how she picked herself up and created her own fairy tale in Paris after the dream she thought she was living crumbled around her.
---
By Saara El-Arifi (@saaraelarifi). Del Rey. 608 pages. Out June 21.
Based on Ghanaian folktales and Arabian mythology, The Final Strife is the first book in a new fantasy trilogy in which three imperfect yet mighty women fight together against cruelty, tyranny and division.
---
By Angeline Jackson. Dundurn Press. 240 pages. Out June 21.
In this candid memoir, queer rights activist Angeline Jackson tells how she fought back against violence, oppression and trauma to live a faithful, courageous and authentic life in Jamaica.
---
By Kalynn Bayron (@kalynnbayron). Bloomsbury YA. 320 pages. Out June 21.
If you enjoyed This Poison Heart last year, be sure to pick up the sequel to see what magic Briseis can conjure to save her mother and their ancient legacy.
---
By Shanté Paradigm Smalls (@shanteparadigm). NYU Press. 216 pages. Out June 28.
This singular volume brings together an impressive examination of queer, Black and feminist hip hop studies in a framework of creativity and cultural production in NYC.
---
By Talia Dutton (@super_taya). Abrams ComicArts – Surely. 224 pages. Out June 28.
Here's the queer Frankenstein reboot we've been waiting for! In her graphic novel debut, Talia Dutton explores sisterhood, science and (un)satisfying expectations.
---
By Samantha Allen (@slawrites). Zando. 256 pages. Out June 28.
For zany surprises, superfun horror and boatloads of queerness, pick up Allen's novel of dating show-Sasquatch-media critique-romance realness.
---
By Robyn Maynard (@policingblack) and Leanne Betasamosake Simpson (Michi Saagiig Nishnaabeg). Haymarket Books. 320 pages. Out June 28.
Bear witness to the dialogue between two of our most brilliant contemporary writers and activists as they grapple with creating a new way forward.
---
By Miriam Thaggert. University of Illinois Press. 240 pages. Out June 28.
In this well-researched and accessible volume, Miriam Thaggert explores the little-known histories of railroads and Black women, as passengers, food vendors and maids.
---
Sign and share Ms.'s relaunched "We Have Had Abortions" petition—whether you yourself have had an abortion, or simply stand in solidarity with those who have—to let the Supreme Court, Congress and the White House know: We will not give up the right to safe, legal, accessible abortion.
Up next: