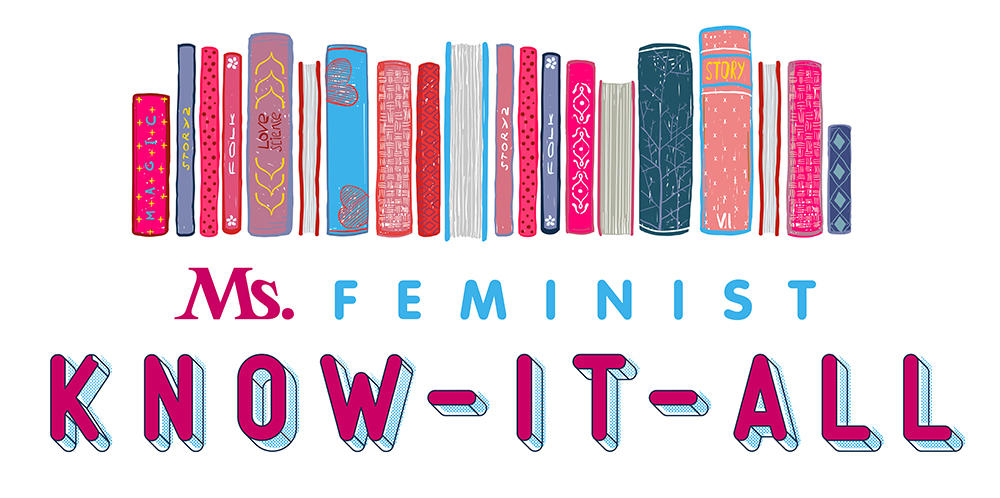 The Feminist Know-It-All: You know her. You can't stand her. Good thing she's not here! Instead, this column by gender and women's studies librarian Karla Strand will amplify stories of the creation, access, use and preservation of knowledge by women and girls around the world; share innovative projects and initiatives that focus on information, literacies, libraries and more; and, of course, talk about all of the books.
---
Each month, I provide Ms. readers with a list of new books being published by writers from historically excluded groups.
The aims of these lists are threefold:
I want to do my part in the disruption of what has been the acceptable "norm" in the book world for far too long—white, cis, heterosexual, male;
I want to amplify amazing works by writers who are women, Black, Indigenous, Latinx, APIA/AAPI, international, LGBIA+, TGNC, queer, disabled, fat, immigrant, Muslim, neurodivergent, sex-positive or of other historically marginalized identities—you know, the rest of us; and
I want to challenge and encourage you all to buy, borrow and read them!
March and April are historically big months for new book releases, and this year is no exception. I've narrowed down a list of hundreds of books to 36 this month. In addition to some compelling fiction, there's imperative nonfiction, memoirs and debuts.
I also want to mention two special releases this month. The first is Worlds of Exile and Bliss, a single volume including three complete novels of Ursula K. Le Guin out March 15 from Tor Essentials. And second, don't miss the 5th edition of Gloria Anzaldúa's essential Borderlands/La Frontera: The New Mestiza out March 1 from Aunt Lute.
So, on to the list! And I hope you find some ways to celebrate women's history, this and every month.
---
By Neema Avashia (@AvashiaNeema). West Virginia University Press. 171 pages. Out March 1.
Neema Avashia has written the book on being a queer Indian woman in Appalachia – and pulls no punches. A timely collection that begins to fill the gap in literature focused mainly on the white male experience.
---
Edited by Stephanie Y. Evans (@Prof_Evans), Sarita K. Davis, Leslie R. Hinkson, and Deanna J. Wathington. SUNY Press. 336 pages. Out March 1.
This expert volume fills an urgent need for in-depth examinations of race, gender and health.
---
By Namrata Poddar (@poddar_namrata). 7.13 Books. 176 pages. Out March 1.
Not only does this resonant feminist debut challenge normative narratives of immigrant life, but it also disrupts the notion of the Western novel in form and function.
---
By Sharan Dhaliwal (@sharanshaliwal_). Hardie Grant. 208 pages. Out March 1.
It's a memoir, it's a guide, it's a celebration of South Asian women. And it's wonderful!
---
By Ruchika Tulshyan (@rtulshyan). MIT Press. 296 pages. Out March 1.
By centering women of color, workplaces can begin to tangibly accomplish meaningful inclusion for all. Luckily for us, Tulshyan has written this guidebook to help us get started.
---
By Nana Darkoa Sekyiamah. Astra House. 304 pages. Out March 1.
In this groundbreaking volume, Sekyiameh asks over 30 African women across the globe about their sex lives. The result is a candid, subversive and empowering read.
---
By Traci Chee (@tracichee). Clarion Books. 384 pages. Out March 1.
Kaleidoscopic and enthralling, this YA fantasy features a girl in search of her power and the demons, spirits, gods and tricksters who challenge her along the way.
---
By Donna Murch (@murchnik). Haymarket Books. 224 pages. Out March 8.
Murch gives us an exceptional reexamination of the Black Panther Party and the Movement for Black Lives more generally through a redistributive, queer and feminist framework.
---
By NoViolet Bulawayo. Viking. 416 pages. Out March 8.
Glory is a singular, surreal and satirical modern parable aimed at global social and political upheaval.
---
By Mamang Dai. Zubaan Books. 198 pages. Out March 8.
This is a groundbreaking collection of writings from women from Arunachal Pradesh in Northeast India, many of which have been traditionally handed down orally.
---
By Leah Thomas (@Leahtommi). Voracious. 208 pages. Out March 8.
Eco-activist @greengirlleah shares her important work on intersectional environmentalism in this slim and accessible volume.
---
By Anna-Marie McLemore (@laannamarie). Feiwel & Friends. 304 pages. Out March 8.
Starred reviews abound for this story of two neurodivergent, nonbinary teens pulled into a magical lake world with a lesson to teach.
---
By Ladee Hubbard (@ladeehubbard). Amistad. 224 pages. Out March 8.
This is a poignant and elegantly written volume of 13 connected stories about relationships, friendships, families and strangers in one Black neighborhood.
---
By Laura Gao (@heylauragao). Balzer + Bray. 272 pages. Out March 8.
Laura Gao shares her story of being a queer, Wuhanese American daughter of immigrants in Texas… in the middle of the COVID pandemic.
---
By Carley Moore (@fragmentedsky). Amethyst Editions. 208 pages. Out March 8.
Moore's latest features a queer, poly, disabled woman journeys through NYC on her bike looking for the connections most of us lost during the pandemic. And it reads like a conversation with a friend.
---
By Azar Nafisi (@azarnafisi). Dey Street Books. 240 pages. Out March 8.
From the author of Reading Lolita in Tehran comes an exploration of the power of literature in challenging times that doubles as a guidebook of resistance reads. To say it's timely would be an understatement.
---
By Sasha LaPointe (@sasha_louise_lapointe). Counterpoint. 208 pages. Out March 8.
I love this poetically punk debut memoir about ancestry, loss, colonialism, rebuilding, power, hope and healing.
---
By Ellen Warner (@ellenwarnerphotos). Brandeis University Press. 257 pages. Out March 8.
This is a collection of 40 beautiful portraits of 40 amazing women over 50. Gift it to all your friends, for no special occasion whatsoever.
---
By Sindya Bhanoo (@sindyabhanoo). Catapult. 240 pages. Out March 8.
This is an extraordinary debut collection centering the complex and diverse experiences of South Asian immigrants.
---
Written by Nadia Shammas (@Nadia_Shammas_) and illustrated by Sara Alfageeh (@foofination). Quill Tree Books. 336 pages. Out March 8.
This graphic novel features a young heroine challenging tradition, patriarchy and imperialism in an expansive and fantastical world. Also watch for Shammas's Where Black Stars Rise coming this fall.
---
Edited by Yu Chen and Regina Kanyu Wang (@regina_kanyu). Tordotcom. 400 pages. Out March 8.
To paraphrase the accurate subtitle, this is an original and visionary collection of Chinese science fiction and fantasy by women and nonbinary creators.
---
By Reyna Grande (@reynagrande). Atria Books. 384 pages. Out March 15.
From the bestselling author comes this new historical romance saga set during the Mexican-American War. And in June, check out Somewhere We are Human: Authentic Voices on Migration, Survival, and New Beginnings, edited by Grande and Sonia Guiñansaca (@theSoniaG).
---
By Melissa Febos (@melissafebos). Catapult. 192 pages. Out March 15.
Melissa Febos is back with this dazzling and insightful volume exploring the intersections between good writing and a good life.
---
By Peng Shepherd (@pengshepherd). William Morrow. 400 pages. Out March 15.
If you loved The Book of M as much as I did, you don't want to miss Shepherd's latest mysterious adventure of speculative brilliance.
---
By Illana Raia (@illanaraia). Forefront Books. 256 pages. Out March 15.
For this inspirational volume, Illana Raia spoke to some big names, to be sure, but the book's strength lies in the topics, such as: preparing for jobs that don't exist yet, rocking your first big presentation, building inclusive teams and being the only woman in the room.
---
By Sheila Williams (@dancingonedge2). Amistad. 352 pages. Out March 15.
Inspired by a 112-year-old woman from the 1850 Ohio census and the author's own ancestors, this historical epic brilliantly explores themes of resilience, motherhood, friendship and legacy.
---
By Eloghosa Osunde. Riverhead Books. 320 pages. Out March 15.
Set in Nigeria, this imaginative novel features a bounty of characters, queerness, fantasy and realism.
---
Written by Irene Solà. Translated by Graywolf Press. 208 pages. Out March 15.
By aligning one family's tragedy with the rugged landscape of the Pyrenees, Solà masterfully explores the mysteries of nature, ancestry and humanity.
---
By Ayanna Lloyd Banwo (@ayaroots). Doubleday. 304 pages. Out March 15.
Bestselling author Marlon James says this debut Trinidadian love story "might just heal you."
---
Edited by Julie R. Enszer and Elena Gross (@yung_sch0lar). Rutgers University Press. 342 pages. Out March 18.
This volume is a collection of speeches and presentations from the annual OutWrite Conference which ran from 1990 to 1999. Included are queer greats such as Dorothy Allison, Jewelle Gomez, Allen Ginsburg, Minnie Bruce Pratt and more.
---
By Jennifer Natalya Fink (@jennifernatalyayup). Beacon Press. 232 pages. Out April 5. 
Through an exploration of her own extended family's history, Jennifer Natalya Fink advocates for a lineage of disability that will allow for a reclamation of history, an expansion of inclusion and a reimagination of kinship and carework.
---
By John Elizabeth Stintzi (@JEStintzi). Two Dollar Radio. 330 pages. Out March 22.
I will read anything that comes from JES's twisted imagination and love it. This ingenious, insightful, unconventional and expansive eco-horror is no exception.
---
By Julissa Arce (@julissaarce). Flatiron Books. 208 pages. Out March 22.
In this unflinching book, Julissa Arce guts the idea that to live in America means immigrants must abandon their own histories, cultures and languages and assimilate to dominant norms.
---
By Shahida Rahman. Onwe Press. Out March 29.
This historical novel examines questions of colonialism, love, tradition and freedom through the eyes of a young Indian woman working as an ayah (nanny) in London.
---
Written by J.D. Kurtness (Innu) and translated by Pablo Strauss. Rare Machines. 176 pages. Out March 29.
This slim but evocative volume centers a marine biologist (and her ancestors) in her fight to preserve the ocean and, perhaps, save the world.
---
By Summer Michaud-Skog (@fatgirlshiking). Timber Press. 252 pages. Out March 29.
I've been waiting for a book like this! Summer Michaud-Skog, the founder of Fat Girls Hiking, has blessed us with this invaluable volume full of trail reviews, advice, stories and profiles, alongside beautiful photographs. #TrailsNotScales!
Up next: