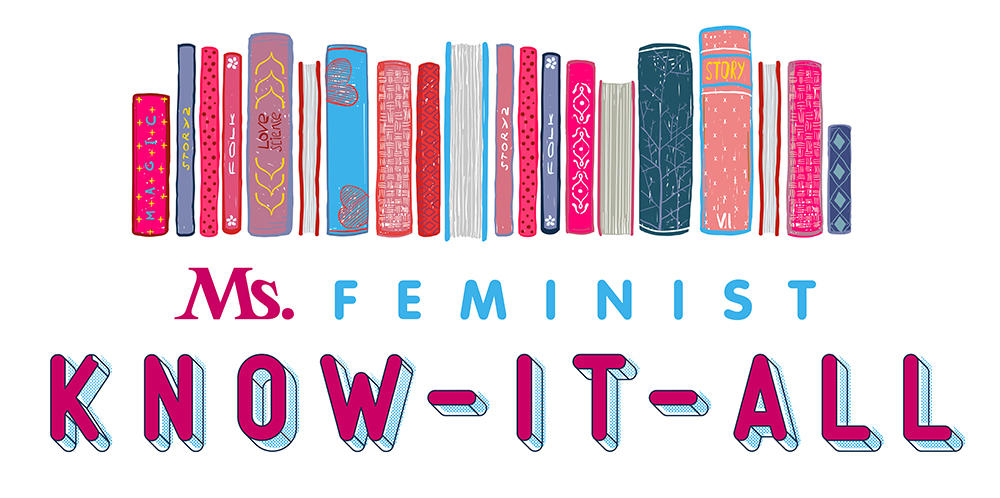 The Feminist Know-It-All: You know her. You can't stand her. Good thing she's not here! Instead, this column by gender and women's studies librarian Karla Strand will amplify stories of the creation, access, use and preservation of knowledge by women and girls around the world; share innovative projects and initiatives that focus on information, literacies, libraries and more; and, of course, talk about all of the books.
---
Each month, I provide Ms. readers with a list of new books being published by writers from historically excluded groups.
The aims of these lists are threefold:
I want to do my part in the disruption of what has been the acceptable "norm" in the book world for far too long—white, cis, heterosexual, male;
I want to amplify amazing works by writers who are women, Black, Indigenous, Latinx, APIA/AAPI, international, LGBIA+, TGNC, queer, disabled, fat, immigrant, Muslim, neurodivergent, sex-positive or of other historically marginalized identities—you know, the rest of us; and
I want to challenge and encourage you all to buy, borrow and read them!
Apologies for the delay in this month's list but the massive Most Anticipated Reads for the Rest of Us list that just came out took it out of me! But here it is, and here are 39 titles being released this month that the rest of us should get excited about.
So get excited and get reading! And be sure to support Black writers, publishers and booksellers this and every month.
---
Edited by Anna Gifty Opoku-Agyeman (@itsafronomics). St. Martin's Press. 272 pages. Out now.
This is an ode to Black experts and their solutions to contemporary issues in the U.S. Consider it #RequiredReading.
---
By Charmaine Wilkerson (@charmspen1). Ballantine Books. 400 pages. Out now.
This debut about family secrets and journeys of the heart is getting rave reviews.
---
By Rebecca Walker (@iamrebeccawalker). Soft Skull Press. 160 pages. Out now.
Soft Skull has published this beautiful 10th anniversary edition of this classic celebration of the African roots and aesthetic legacies of Cool.
---
By Jayne Allen (@jayneallenwrites). Harper. 272 pages. Out now.
The sequel to Black Girls Must Die Exhausted continues to focus the experiences of the modern Black woman, including friendships, romance and motherhood.
---
By Tracey Michae'l Lewis-Giggetts (@tmlewis). Gallery Books. 288 pages. Out now.
This is an essential collection on the radicalism, beauty and necessity of Black joy to counter narratives of trauma and to celebrate wholeness and liberation.
---
By Jessica P. Pryde (@jessisreading). Berkeley. 288 pages. Out now.
Focused on Black love, joy, desire, romance and the depictions of these in the media, this important anthology includes essays by Jasmine Guillory, Beverly Jenkins, Carole V. Belle, Kosoko Jackson and more.
---
Written by Malika Moustadraf and translated by Alice Guthrie. The Feminist Press at CUNY. 136 pages. Out now.
Now available is the complete collection of published short stories by a Moroccan feminist icon who boldly engaged with themes of feminism, sexuality and female embodiment while openly challenging patriarchal oppression and traditions.
---
By Bethany C. Morrow (@BCMorrow). Dutton. 336 pages. Out now.
I love smart, slow-burn horror and this one by bestselling author Bethany C. Morrow examines race, class, friendship, jealousy and loyalty.
---
By Robin Brooks (@drchangemaker). University of North Carolina Press. 238 pages. Out now.
In this innovative work, Dr. Robin Brooks examines narratives of class divisions and economic inequality in the literature of Black women including Toni Morrison, Gloria Naylor, and more.
---
By Sarah Blake (@blakesarah). Algonquin Books. 320 pages. Out now.
Blake's originality is on full display in this post-climate-apocalypse, murder mystery, science fiction, thriller extravaganza.
---
By Emily Maloney. Henry Holt & Co. 240 pages. Out now.
Timely, personal and compelling, this collection of essays explores healthcare from the inside and outside, and its cost in dollars and sense.
---
By Barbara Chase-Riboud. Amistad. 416 pages. Out now.
Chase-Riboud writes historical fiction that's fun to read and centered on people we should know, like Hannah Elias, one of the richest Black women in the U.S.
---
By Silvia Vasquez-Lavado (@silviavasla). Henry Holt & Co. 320 pages. Out now.
This is a truly invigorating and compelling story of a heroic healing journey to base camp at Mt. Everest.
---
Written by Mónica Ojeda (@MonaOjedaF) and translated by Sarah Booker (@sarahkbooker). Coffee House Press. 272 pages. Out now.
In her English-translation debut, Ojeda tells a creepy story of six girls in an Ecuadorian Catholic high school who explore the occult, sexuality, friendship, fear and vengeance.
---
By Kim Fu. Tin House Books. 220 pages. Out now.
This collection of kaleidoscopic speculative short stories will have you questioning reality and loving every minute of it.
---
By Kai Harris (@AuthorKaiHarris). Tiny Reparations. 288 pages. Out now.
A young girl's difficult coming-of-age is lovingly presented in this layered and moving debut.
---
By C.A. Davids (@ca_davids). Verso. 304 pages. Out now.
Davids has written a singular novel tying Cape Town, Shanghai and China together through themes of legacy, revolution, justice and the visions of Langston Hughes.
---
By Kodo Nishimura (@kodomakeup). Watkins Publishing. 224 pages. Out now.
With the help of Queer Eye, Japanese makeup artist Kodo Nishimura uses his newfound fame to share his own blend of positivity, self-love and Buddhism.
---
By Destiny O. Birdsong (@destinyoshay). Grand Central Publishing. 368 pages. Out now.
Hopeful and powerful, this is an original novel in three parts, each centering a Black woman with albinism.
---
By Majora Carter (@majoracarter). Berrett-Koehler Publishers. 216 pages. Out now.
An expert in clean, sustainable urban revitalization, Majora Carter wants you to (re)examine how you can invest in your community and improve the health, safety and future for all who live there. And she provides the guidebook to do so.
---
By Lyn Liao Butler (@lynliaobutler). Berkeley. 352 pages. Out now.
Butler follows the success of The Tiger Mom's Tale with this powerful story of family secrets, grief and what it takes to come through it all with love.
---
By Tahereh Mafi (@tahereh). HarperCollins. 512 pages. Out now.
An instant bestseller, this epic YA adventure romance is the first in a trilogy based on Persian mythology.
---
By Minoli Salgado. Repeater. 216 pages. Out now.
In this remarkable and groundbreaking volume, 12 survivors of war violence in Sri Lanka—mostly women and relatives of those who have disappeared—share their heartbreaking stories of injustice and bravery.
---
By Janine Kwoh (@kwohtations). Workman Publishing Company. 128 pages. Out now.
This is a lovely, sensitive, and—dare I say—humorous take on what it is like to be a person who has lost someone very dear to you. No matter how you've felt or what you've done to cope, The Grief Club can help.
---
By Laila Sabreen (@lailasabreen). Inkyard Press. 352 pages. Out now.
In her beautiful debut, Sabreen centers the experiences of Black Muslim girls who create space for themselves and others to find some solace, a community and their own voices.
---
By Sara Goudarzi (@saragoud). Deep Vellum Publishing. 252 pages. Out February 15.
This is the compelling debut about an unexpected relationship between two girls across time, space and grief.
---
By Akwaeke Emezi (@azemezi). Knopf BYR. 272 pages. Out February 15.
Bitter is Emezi's companion novel to Pet and continues shining a light on how protest, bravery, art and young people will save the world.
---
By Tiffanie Drayton (@draytontiffanie). Viking. 304 pages. Out February 15.
A Tobagonian woman, Drayton offers a unique and candid perspective of the racial stratification of the US after years of chasing the dream.
---
By Emme Lund (@emme_lund). Atria Books. 320 pages. Out February 15.
Emme Lund has written a sweet and brave debut of queer magical realism about identity, acceptance and hope.
---
By Ariel Delgado Dixon (@arieldeldixon). Random House. 320 pages. Out February 15.
Dixon's chilling and evocative debut features two sisters whose traumatic history bonds them and shapes their adulthood.
---
Edited by Zoraida Córdova (@zoraidasolo). Wednesday Books. 432 pages. Out February 15.
This extraordinary anthology features magical and fantastical stories by Latinx writers including Anna-Marie McLemore, Lilliam Rivera, Isabel Ibanez, and more.
---
By Jenna Gensic and Jennifer Brunton. Jessica Kingsley Publishing. 320 pages. Out February 21.
This book is exactly what the title says it is. It's also accessible, sensitive and long-overdue.
---
By Kianna Alexander (@kiannawrites). Gallery Books. 336 pages. Out February 22.
This engaging biographical novel pays homage to real estate magnate Josephine N. Leary and her achievements in post-emancipation North Carolina.
---
By Gabrielle Civil (@gabrielle_civil). Coffee House Press. 240 pages. Out February 22.
Phenomenally creative and passionate, this collection of work by performance artist and poet Gabrielle Civil is also expansive, feminist and inspirational.
---
By Axie Oh (@axieoh). Feiwel & Friends. 336 pages. Out February 22.
This is a glittering and sumptuous feminist retelling of the classic Korean folktale "The Tale of Shim Cheong."
---
Written by Gulbahar Haitiwaji and Rozenn Morgat. Translated by Edward Gauvin. Seven Stories Press. 240 pages. Out February 22.
Of this urgent first memoir about the "reeducation" camps by a Uyghur woman, the author confirms: "I have written what I lived. The atrocious reality."
---
By Gretchen Felker-Martin (@scumbelievable). Tor Nightfire. 304 pages. Out February 22.
Just look at this cover. I mean, with a cover like that, you know the book is fierce, formidable and queer AF. And this one really is.
---
By Kit Mayquist (@KMayquist). Dutton. 368 pages. Out February 22.
This queer modern gothic debut has drama, secrets, murder and intrigue; it was called "gory and glittering" by writer Hannah Whitten and I am here for it.
---
By Marquis Bey. Duke University Press. 304 pages. Out February 25.
In 2019, Bey's debut collection Them Goon Rules changed me as a scholar, a feminist, an accomplice and a person; I can't wait to see what this volume has in store.
---
Up next: